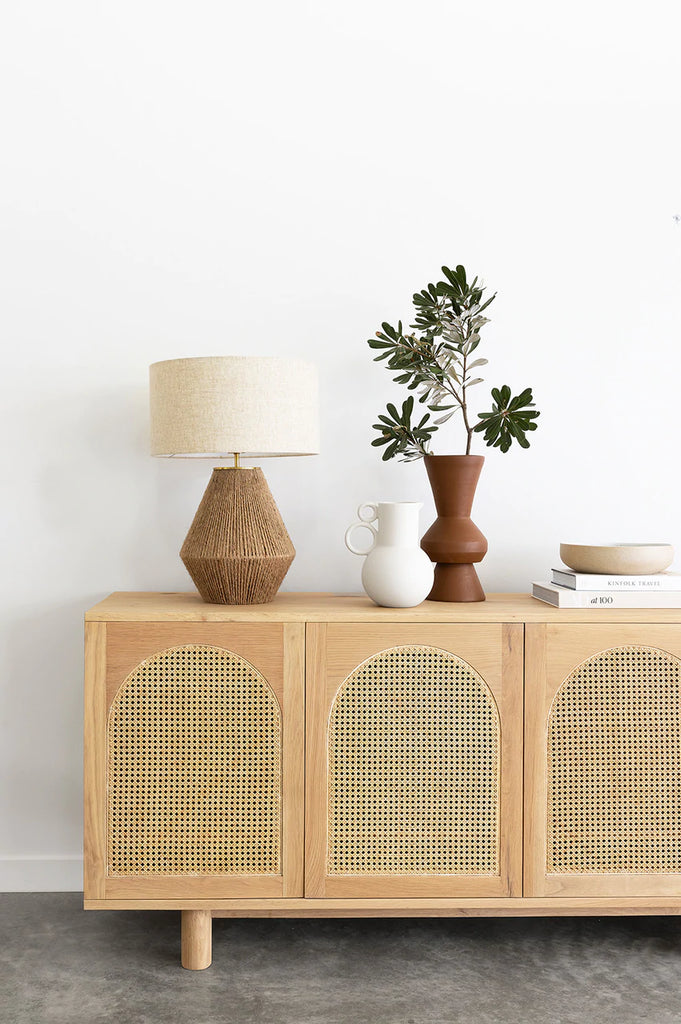 When it comes to choosing furniture for your home, a piece of statement furniture can be the piece that makes or breaks a room, and can help set the tone for all your other decor choices.
A well selected chair, coffee table or console can take ownership of your living space, allowing your eyes somewhere to rest.
And if you've grown tired of your existing living room or bedroom, a new piece of furniture is the perfect antidote, giving your home a whole new look.
Here are just a few of our favourite furniture items that will make a statement and give your living space a new lease on life.
Our Carlos Armchair is an iconic Rattan armchair, featuring a hand made frame from sustainably sourced teak.
Not only gorgeous - the Carlos Armchair features Zepel Fibreguard fabric - FibreGuard's stain resistant technology is built into the yarn ensuring fabrics remain stain free, no matter whether it's coffee or ketchup, ballpoint pen or red wine.
This armchair works beautifully as a stand alone chair in the corner of your bedroom or living room,  and also looks stunning in pairs or in groups of four in a sitting space.
While not a huge piece of furniture, the Zali Backless Stool certainly makes an impact.  
Combining the beauty of simple design with supreme comfort, these stools look stunning grouped in a kitchen and can help provide the warmth of timber to an otherwise cold space.
Also available as a dining chair, this classic piece of mid-century Danish design furniture comes completely assembled and is superbly crafted.
The Josie Coffee Table is constructed using solid, high grade, sustainably sourced teak and is available in two sizes, so they can be nested together as pictured.
The warmth of this timber makes it the perfect match for your modern boho, coastal, scandi or contemporary style home.
The four door Arch Sideboard will make a statement in any room, without being overbearing.
Inspired by the raw coastal beauty of the Sunshine Coast, it has been sanded smooth and fine yet maintains a "raw" look.
Extremely solid, this sideboard is the perfect piece to be handed down from generation to generation. 
Our leather strap dining chairs are a modern and contemporary chair suitable for most dining tables or seating arrangements; they also look gorgeous in a corner or as an occasional chair.
This version in olive green is a stunning way to introduce a natural feel to your home, especially for those with a view of greenery outdoors.
Also available in white, these chairs make a subtle statement that works beautifully within a modern boho, coastal or scandi home design.
The Josie Side Table is perfect for many areas - pop it next to a bed, sofa or armchair as a practical, yet stylish addition to the home.
Constructed using solid, high grade, sustainably sourced teak, this table will suit a variety of home decor styles and is the ideal way to refresh a living space without changing everything entirely.
Looking for more ideas?  Check out our posts on interior trends we'll be warming up to this year, or 10 ways to decorate your walls.