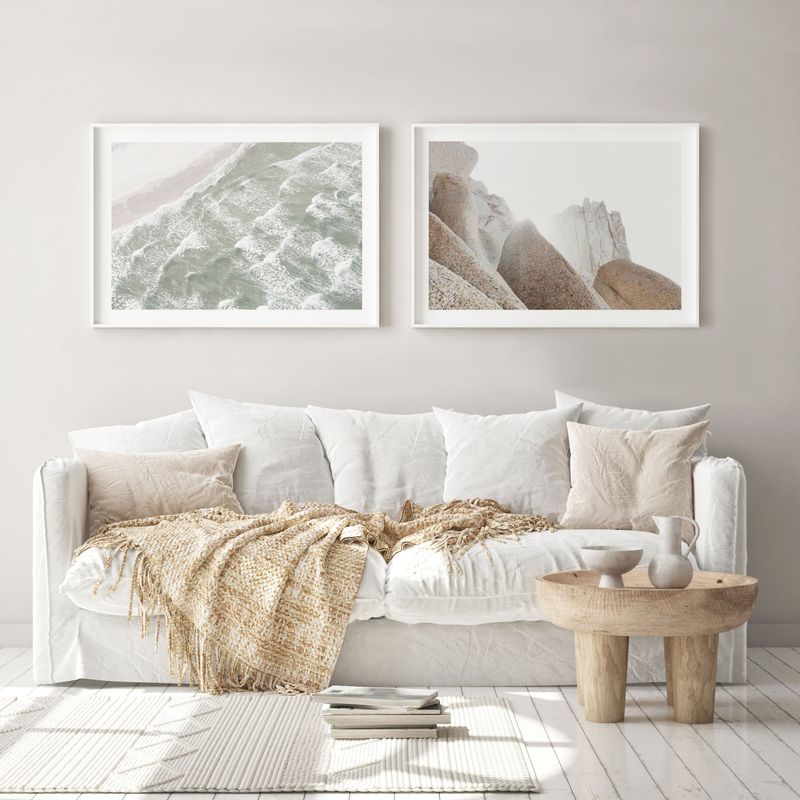 Sick of staring at the same four walls?  Changing up what you display on (or near) your walls can give your home a totally new look without needing to splash a lot of cash.
Here are some of our favourite ways to spruce up your walls to make you fall in love with your home all over again.
Plants
We're a sucker for indoor plants and their ability to transform a lifeless space into a home with character.
Try hanging a few plants at different heights in an empty corner of your space, or use a trailing plant such as Devil's Ivy that can grow to cascade over bookshelves, mirrors, window sills and architraves.
Juju
Perfectly suited to modern boho, eclectic, coastal and contemporary homes are juju. 
These look beautiful on their own but are also stunning as a set or as part of a gallery wall.
Prints
Prints are of course an obvious choice but how you hang them makes all the difference.  
A large format art photography piece might be perfect hung on its own or resting on a sideboard for a more informal look. Alternatively you could combine two, three or five similar prints together in a cohesive collection.
Another option is to create a gallery wall combining any number of prints, photos and trinkets - the trick here is to find something unifying about your collection whether that be the colour or style of your frames, or the central theme of your gallery.
Hats
Hats are a fantastic way to decorate your wall - not only do they look great but also provide easy storage for often difficult to store items.  
A collection of straw hats work beautifully in a coastal or boho style home; an eclectic assortment of hats can work just as well depending on your style.
If you're not able to add hooks to your wall - no problem.  Make a statement and display your collection on a hat stand.
Macrame
Macrame wall hangings are a lovely way to soften a space and work equally well in bedrooms and nurseries as they do in your living spaces.
In natural fabrics they work beautifully in coastal, boho and contemporary homes.
Wall Hooks
Wall hooks are an easy way to add extra personality to your walls with the added bonus of giving you an extra place to store hats, bags and scarves, along with decorative trinkets such as beaded tassels.
We love brass hooks because they suit so many different styles, and are beautiful on their own as decorative items.
Shell Decor
Shell decor is a beautiful alternative to traditional wall art and works perfectly with contemporary, coastal or boho decor styles.  
Think shell crosses or beaded tassels, or make a statement with a stunning shell chandelier to dress up a corner space.
Open Shelving
Open shelving is the perfect way to display your treasures, trinkets, photos and smaller framed prints, and the best bit is you can change what you display as often as the mood strikes.
Keep it looking cohesive by grouping objects in similar colourways.
Mirrors
Not only do mirrors look beautiful, they're also an easy way to give the illusion of more light and space.
Oversized mirrors or those with an interesting frame make a beautiful statement on their own, while smaller mirrors (or a collection) look stunning as part of a gallery wall or in small spaces such as a powder room.
Books
A wall of books is a thing of beauty and makes a great talking point when you have guests.  
Depending on your decor style, you can try arranging them by colour, or mix up the stacking direction so that some are horizontal and some are vertical for a fun, spontaneous look. 
Mix up the styling of your shelving with decorative pieces you love that showcase your style - vessels, photos, souvenirs from your travels.  Anything goes!