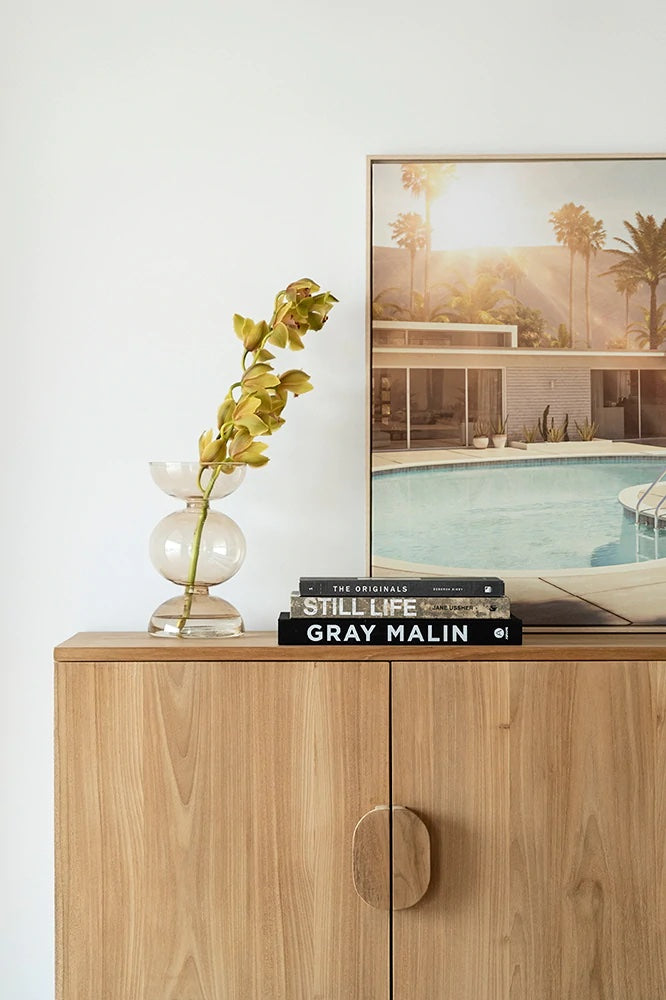 It's hard to truly feel relaxed if you're surrounded by piles of paperwork without a home, children's toys underfoot, or never able to find what you need, at the right time.
Conversely, having an organised, uncluttered home can help you feel relaxed at the end of a long day or on the weekend, and creates a soothing, welcoming space.
So if you're tired of clutter and disorganisation, here are five of our favourite tips to make spending time in your home am easier, more enjoyable experience.
Double duty
When choosing furniture, try to invest in pieces that double up as storage - think ottomans where you can hide throws and cushions, coffee tables with slide-out drawers for magazines, board games & puzzles, bench seats with shelving underneath or dining tables with storage hidden in the base.
Hunter round dining table with storage
Roll on
If space allows, set up a bar cart close to your dining table - cutlery, placemats, napkins & glasses can all be stored easily to save you making multiple trips to the kitchen every time you set the table.  This can also free up prime-storage space in your kitchen.
A bar cart or trolley is also a fantastic way to store kids art supplies, allowing them to craft wherever they please (and then wheel the cart away to their bedroom when not in use)
A place for everything
Unless you are fastidious about keeping on top of clutter, allow yourself one small junk bowl, tray or draw for items such as buttons, receipts, loose change etc that don't have an immediate place elsewhere.
Choose something that aesthetically pleasing and fits in with your overall decor scheme, and try to empty it out each week.
Toy story
Not a fan of stepping on lego in bare feet?  If you have little kids in your home, try some creative storage solutions such as attractive jute baskets, storage tubs with colour-coded labels or a play mat and storage sack in one. 
When your children are small the most important thing is to make sure it's easy for them to put their toys away - especially those lego pieces and barbie shoes - so aim for storage that can be kept easily accessible and simple to throw things into (if you're lucky you might even be able to turn it into a game for them). 
Over-the-door shoe hangers are another good option for those tiny bits and pieces kids accumulate.
Enough's enough
If your linen cupboard is bursting at the seams, pare it down to two sets of summer sheets and two winter (depending on where you live) per bed, plus two full sets of towels for every person in your home - one in use, one in the wash or stored away (and if your linen cupboard needs a makeover, see our guide on how to organise your linen cupboard).
If all else fails? Try the 5 a Day rule - at the end of every day, pick up five items that are out of place and find a permanent home for them.