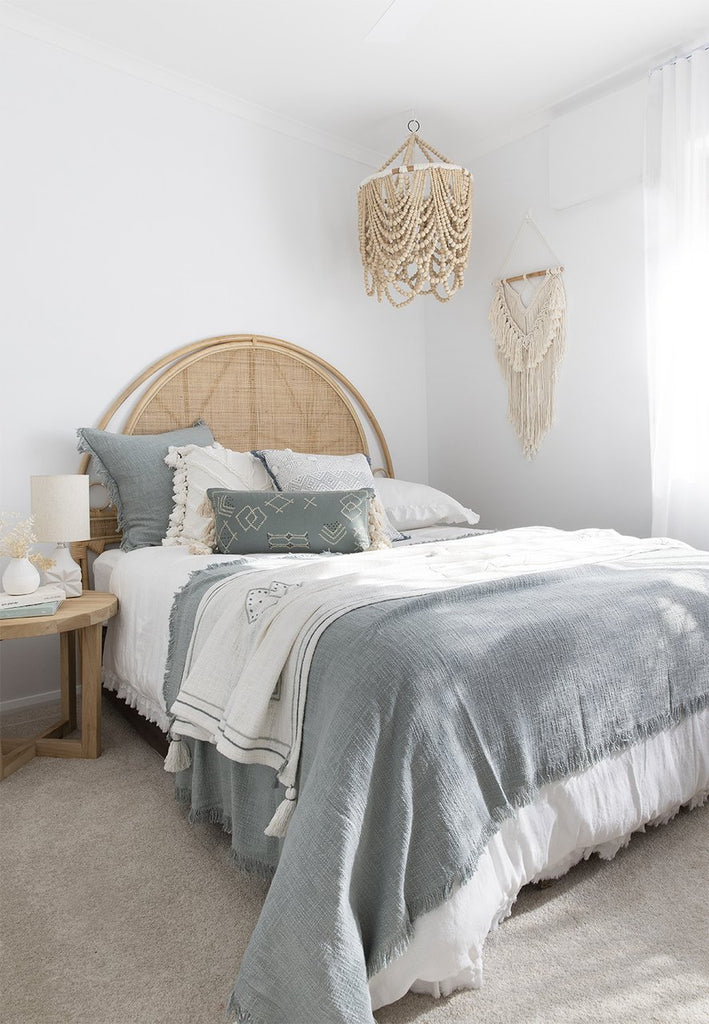 As we clock in to 2021 many of us are looking for ways to renew our lives and living spaces.  One of the easiest ways to do this is to make sure your bedroom is a welcoming and restful space.
Refreshing your bedroom is usually less overwhelming (and less expensive) than other rooms in your home but can have such a big impact on how you feel.
Here are a few of the trends we've seen popping up that will make sure your bedroom is not only your haven, but stylish too.
Colour story
In a break from tradition, Pantone has awarded 2021 two colours - ultimate grey, an earthy soft hue; and illuminating, a bright, sunny yellow. Pantone calls it "a marriage of colour conveying a message of strength and hopefulness that is both enduring and uplifting", and we couldn't agree more.
Soft greys have long been a favourite of ours in the bedroom, and pops of yellow or mustard will help elevate your bedroom space to keep it from feeling dull.
Layer up
The cosy, layered bedroom trend isn't going anywhere anytime fast - in fact, as we continue to look at our homes as a sanctuary and escape we're doubling down on this style.
Think natural fabrics that feel amazing to touch; with interest provided by multiple layers & textures - cushions, throws, amazing bed linen, floor rugs.  
Natural is nice
The cane/rattan trend looks like it's here to stay, and is the perfect way to introduce a more natural, relaxed vibe to your bedroom.
Bedheads, bedside tables, chairs, shelving and hanging chairs in cane or rattan look beautiful, and will work with such a broad range of styles, from bohemian or coastal to country to scandi.  
Curtain call
While fresh white shutters will always have a place in our heart, we are loving the trend toward curtains in the home, especially in the bedroom.  
Hanging the curtains high (no need to be constrained to your window height) and letting them gently pool on the floor will elongate the room and create a luxurious, hotel-type feel.
If you like this post, check out Interior Trends: What You'll Be Loving in 2021 for style advice for the rest of your home.