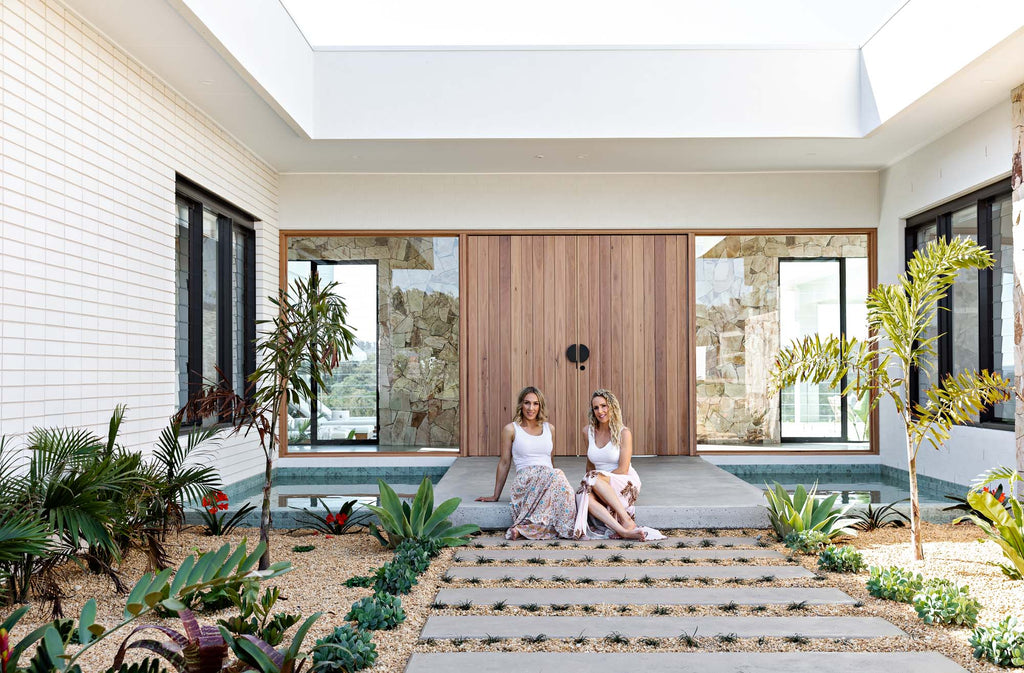 If you follow Sea Tribe on instagram, you've likely seen the stunning work by Heather and Sarah from Oak & Orange.   
The beautiful, light filled homes they create together with their husbands are a true reflection of contemporary Australian style and are an amazing source of inspiration for new-build homes and interior style.
We recently had a chance to chat with Heather about how Oak & Orange got started, her top tips for building projects, and what we can look forward to next.
You've created some absolutely stunning homes over the past few years.  How did you get started in the building game?
We met over 15 years ago when we were both dating our now husbands, who both just happened to be carpenters. Each couple spent the early years of marriage, either building new or renovating homes to climb the property ladder.
Almost 10 years ago our husbands started Better Built Homes -  a new home building company. Over the years of this company growing we also embarked on some of own new home projects, which varied from building to live before moving on, building to sell and building for investment.
Combined we have now completed over 20 new builds and while we have lived in every single one of those homes we have moved a lot. We found that by living in the homes we designed and built we gained some pretty unique insight.
It's why we started Oak & Orange, we always knew we wanted to keep designing and building new homes but we wanted to share these journeys on social media to help others get it right for themselves.   
Where do you get your inspiration for your projects?
Like most we still rely on Pinterest and Instagram. Pinterest is our fave as we can create secret boards and share them with each other but then we cant go past Instagram for product specific information.
For each project we definitely have a style we choose which is based on a combination of budget, what's on trend and also the location of the home.
We then set about creating a vision board for the whole home and creating sections for each room. This enables us to keep focused during our design selection process and makes each room fits with the overall style of the home both inside and out.
What has been your most challenging project?
We would both agree our own homes have been the most challenging - although we have had a lot of experience building new homes, our own homes are unlike anything we have done before and we really wanted to get it right. But with that comes self imposed pressure and lots of doubts and indecisiveness which doesn't go well during the construction process.
Fortunately having each other really helped when it came time to make the tough calls because we could help each other work through those challenges and make the right decisions. Sometimes all we need is to be each other's sounding board to work through finalising design choices. It's why we work so well together.
What has been your favourite project to date?
For me it would be Dream Home 4 – Palm Springs Retreat, because it's my home. I'm sure Sarah would say Dream Home 5 because that's her home!
We have spent so many years designing homes and living in them but we always knew they weren't our dream homes, they were stepping stones to get us to the place we are now.
Although Dream Home 4 and 5 may not be our forever homes, they are definitely dream homes and we love that after years of hard work we were able to stretch our budgets and finally create something that is unique to our own individual styles.
These projects enabled us to take our years of experience designing and moving into different homes to create dream homes that are not only beautiful but really practical for the way our families live.
Can you share some of your top tips for a successful new build project? 
The key words here are Plan, Research and Perspective. The early stages of the design with a new build can be slow, there is a lot that needs to happen before council approval and then again before the site is even excavated.
Its really important to use this time wisely and make all the decisions up front. Changes during construction can slow down the build time and be costly.
Planning and research go hand in hand but it is so important. We suggest creating a wish list for each room during the planning stages so you don't miss including anything really important during the design stage.
As much as a vision board is important for the visual look of the home, a wish list should include all the really practical yet not always visible items that you want to include that will likely make the home more liveable. Think soft close drawers and built in hampers and bins. These are things that will make your beautiful new home looking as good as you saw in the Instagram pics.
Perspective is everything. Just as is the case with renovating, new home builds can be challenging too. Not everything will go to plan, rain happens, you may not always be happy when things don't turn out the way you expect them too.
While we know and understand that new homes are the most expensive purchase people make, striving for perfection can lead to disappointment and it's really important to keep everything in perspective.
Having a new home move into at the end is worth celebrating, being able to share that home with loved ones is even more special, so don't sweat the little things.
Have you had to make many changes to your business due to covid and if so, how has your business changed?
We were work at home mums before covid hit, but each of us having three children at home while trying to work was a challenge. Fortunately being Sydney based our kids weren't at home for long and we all survived with a new appreciation for their teachers.  
We do work with a lot of suppliers and definitely noticed that some of our key suppliers were impacted more than others, although as 2020 draws to a close we have seen a big improvement in the home building sector.
You've worked with a lot of Sea Tribe products now, what is it that draws you to them?
There are so many reasons we love Sea Tribe! The soft colours and neutral palette, the ever-changing yet always on trend styles.  Sea Tribe products suit the modern, often coastal, style that we are always drawn to. 
We are currently discovering your Dream Home 5 online - is there a Dream Home 6 in the pipeline and if so, can you give us a bit of insider intel?
Dream Home 6 is in construction and we will also be doing an online video series.
We don't want to give away too much but it is a very different style and size to Dream Home 5 - we love a challenge so every Dream Home we create we try to do things differently each time. We will be sharing loads of clever storage solutions in Dream Home 6, so stay tuned!
Find out more about Oak & Orange, and view their latest project here.