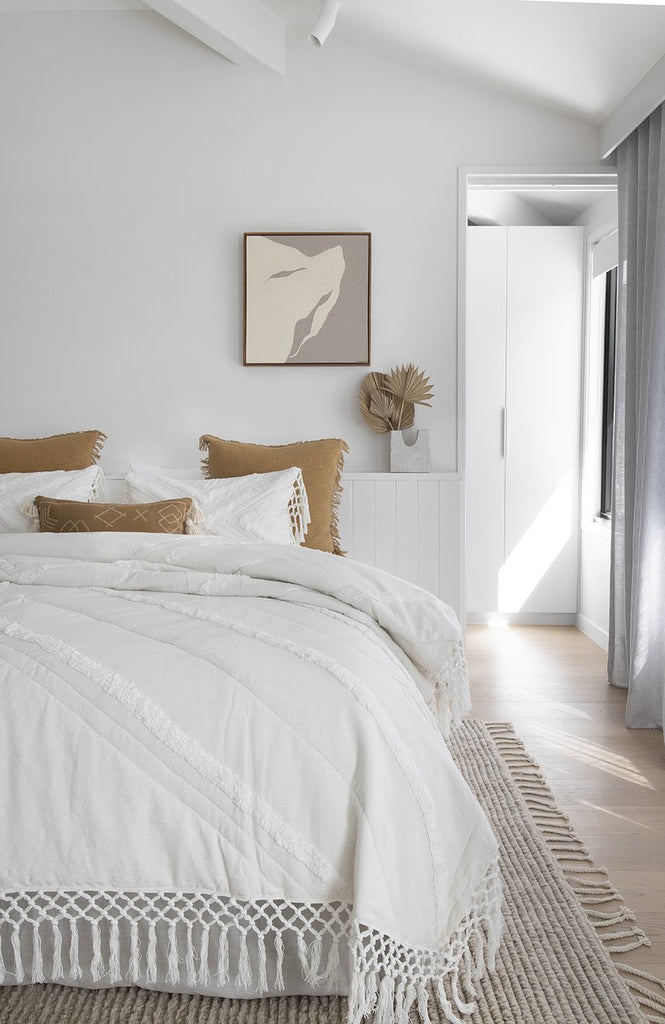 While 2020 seems to be one of the longest years ever, it also seems to be flying by...how is that possible?
Either way, 2021 will be here before we know it and with it a lot of us are looking at the trends that will shape interiors over the coming year.
Unsurprisingly, a lot of the forecasters are expecting that in the near future many of the trends that will shape our interiors have been heavily influenced by the pandemic that punctuated much of 2020.
CRAFT
Hands up who turned to arts & crafts in quarantine, or know someone who did? 
While many of us have embraced new hobbies and skills such as quilting, knitting and tie dye, these handicrafts will inspire many products - even if we don't actually make them ourselves. 
We expect this will take the form of homewares in natural ceramics, macrame, embroidery and knitted fabrics.
NATURAL & EARTHY
As many of are spending more times looking at screens and high tech devices now we are working from home, it's unsurprising that a major trend for 2021 is expected to be natural and earthy.
This trend will feature textures such as natural timber, wool, linen and stone - an antidote to screens and sleek, modern interiors.
YELLOW
After what has been quite a depressing year for many, happy colours like yellow are expected to dominate in 2021.  Those who prefer a more earthy, neutral palette need not fear - yellow is expected to pop up in all its permutations, from the obvious buttercup yellow all the way through to ochres, mustard and warm beige.
BUYING LOCAL
One trend that has been borne out of necessity but looks like sticking around is the tendency to buy local, supporting more small businesses and local makers, and avoiding mass-produced multinationals.  
EVERYDAY COMFORTS
Another trend forecasted due to more of us spending more time at home - and also as a result of having a less than brilliant year - is a focus on everyday comforts and luxuries.  
It's expected that as more of us spend more time in our home, we will be looking to make our home our haven.  This will include choosing more luxurious, quality pieces than before but also surrounding ourselves with small objects, decor and trinkets that bring us joy.  Time to treat yourself!
As we always say with trends - don't sacrifice your personal style for something that might be just a flash in the pan. But if you love them, go ahead and embrace them with joy.  Hoping everyone has an amazing 2021!