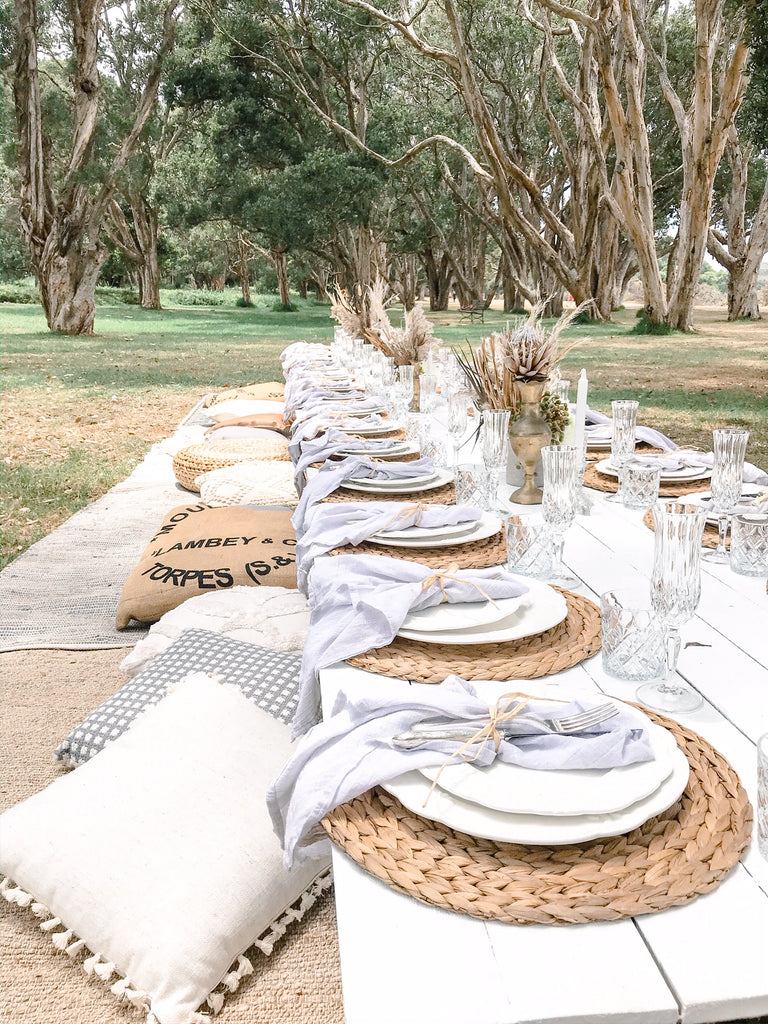 The weather is getting warmer, the sun is shining and the flowers are blooming...what better way to celebrate the start of spring than with a picnic?
We spoke to picnic guru Hayley Jackman - owner of She Does Picnics and creator of luxury, picnic perfect outdoor events - to find out how to make your next spring picnic your best yet.
What are your 5 essentials for a Spring picnic?
Great friends for the mind, prosecco, blue cheese and a french stick for the body and a great playlist and view for the soul.
What should you look for when scouting for a great picnic location? 
I'm such a fuss pot when it comes to the ideal picnic spot!
Obviously it should be peaceful, have plenty of shade available and a gorgeous outlook, whether it be of the beach, the bush or even your own backyard but having bathrooms close by as well as parking is also super important.
Believe me, nothing ruins the day faster than having to traipse all of your picnic equipment for miles to get to your spot! 
If you could picnic anywhere in the world, where would you go?
Hampstead Heath. I was only a wee girl when we moved to Sydney from North London and I just adore it there.
We were supposed to go back for a holiday in May but unfortunately COVID put the kibosh on that so as soon as the borders re-open this is where you'll find me!
How do you like to decorate a picnic table?
Well our picnics are totally EXTRA so we go all out in terms of styling.
I love using vintage crystal cut cake pedestals to display the goodies along with beautiful high quality tableware, soft linen napery to add texture and of course carefully chosen blooms finish it off and really tell the story of the picnic whether it be a boho bash, gorgeous country garden party or a heavenly Hamptons inspired soiree. 
What do you suggest to make sure everyone is comfortable? 
A cushion under the bum makes the world of difference when sitting on the ground for an extended period of time!
Be sure to set up on a flat area and remove any rocks and sticks from under your rugs and if it's rained in the days leading up and the ground is wet, consider putting a tarp under your rug to avoid a soggy bum.
If the picnic is in honour of a pregnant lady, consider organising a beautiful peacock chair or similar to save her having to get down in the floor - she'll be super grateful.
Do you have a favourite Spring cocktail? 
Is there anything better than sipping on a Pimms and Lemonade at a spring picnic?!
Who would be your top 5 guests if you were to host your fantasy picnic?
My late nan for the feels, Kate Middleton for the class, Ricky Gervais for the laughs, Nigella Lawson for the food and Mark Wahlberg because well you did say it was for my fantasy! 
Shop our range of cushions, rugs, placemats and more to create a beautiful picnic of your own, or if you love the idea of a gorgeous picnic but would rather have someone else do all the heavy lifting for you, check out She Does Picnics.
Hayley and team will help you create a luxury, picture-perfect picnic to wow your guests, leaving you nothing to do but arrive at your chosen location.
Visit She Does Picnics online here or over on insta @shedoespicnics.