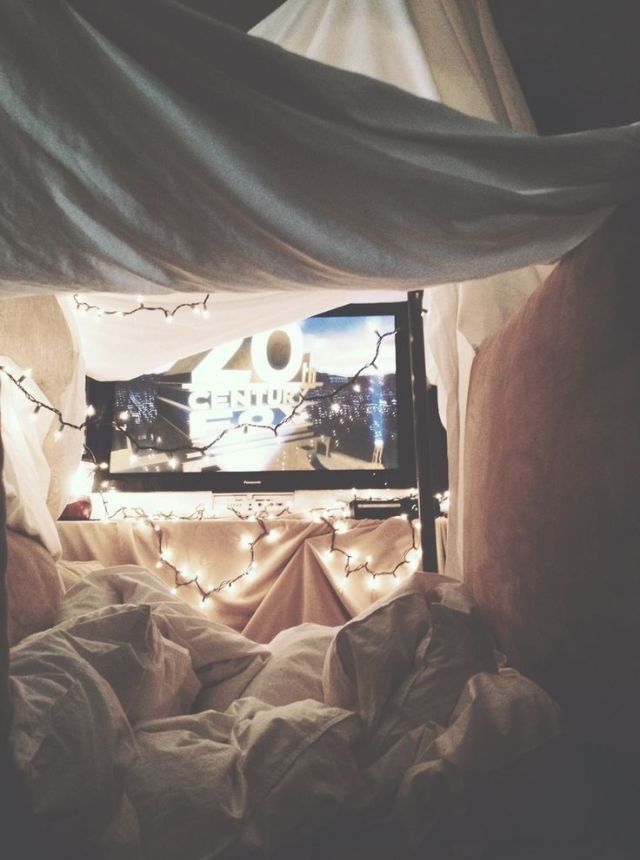 Whether you're staying in for pandemic-related reasons, trying to save some money or just don't want to get out of your sweats, a cosy night in with a movie could be just the ticket for a relaxing date night.
With the right company, it can be even more enjoyable than hitting the town for a big night out.  Read on for our favourite tips to creating the perfect movie night for two.
1.  Set the scene
If you have the time (and can be bothered) doing a quick tidy up can help you feel more relaxed and less stressed (although if clutter doesn't bother you then go ahead and leave it where it is!).
Pre-movie, dim the lights and light some candles to create a more relaxing vibe than you might usually find during the week.  
And if you have kids, we highly recommend you shipping them off to the grandparents or a friends house, but if this isn't possible see if you can at least pop them to bed a little earlier!
(Image: Sea Tribe)
2. Lounging around
Slip into something super comfortable, and make yourselves a luxurious little movie-watching nest.  Grab a throw blanket or two and as many cushions as you can! 
(Image: Pinterest)
3. The food mood
You don't have to do anything too fancy - unless cooking is your favourite way to relax and unwind of course.  Creating a simple cheese & charcuterie platter might be all you need to settle in for the evening or you can order in - just try and pick things that are easy to eat (there's a reason pizza and movies go so well together).
For after dinner, we love a dessert board  - think brownie chunks, marshmallows and fruit paired with a chocolate dipping sauce.  Perfect movie watching fare.  You could also go with a more traditional option and make some fresh, buttered popcorn to pair with lollies (don't forget the jaffas!).
(Image: Feast & Dwell)

4. Drink it all in
Whether your perfect movie-watching beverage is a crisp, chilled rosé, a classic g&t or a piping-hot cocoa, prep it so you're not constantly getting up for refills.  Prepare an ice bucket for your wine, make a pitcher of your favourite cocktail or fill a thermos worth of hot chocolate so you have something to sip on for the length of the movie.
And now you're all set for the ultimate movie date night.  Now all you need to do is pick a movie...
CLICK HERE to view our range of cushions and throws, perfect for your next date night in.