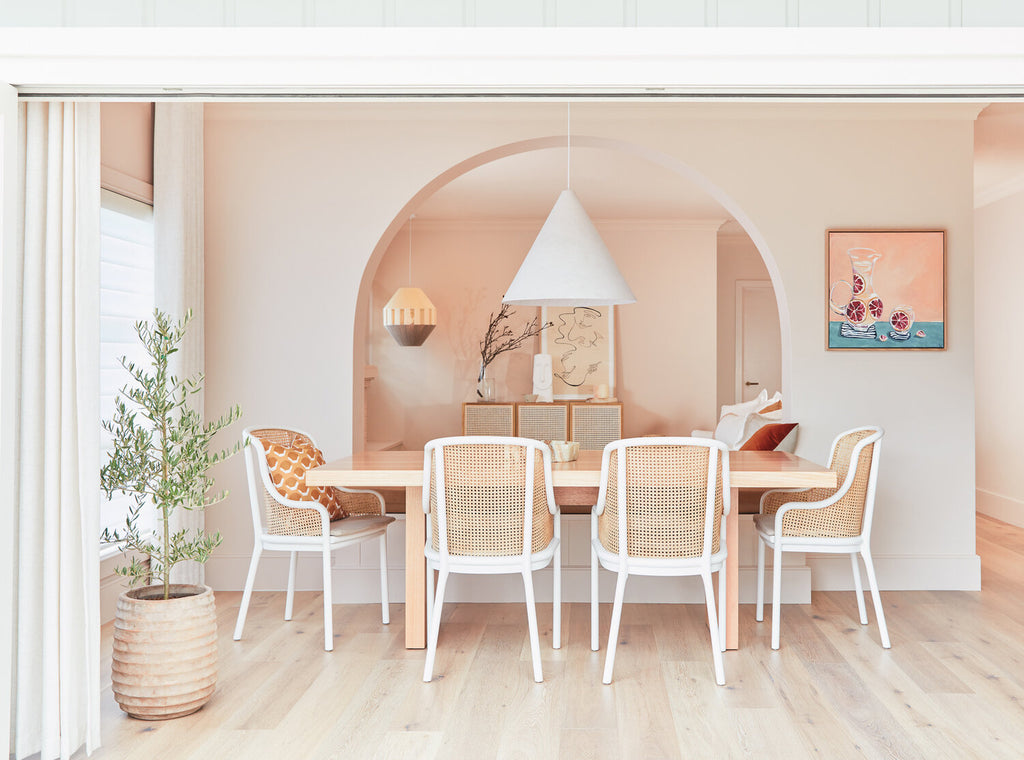 If you haven't heard about Three Birds Renovations, we're pretty certain you mustn't have heard about Pinterest or Instagram either, because these women are ALL over both.
And no wonder - their stunning home transformations are the perfect blend of both classic and on-trend design and decor, combined with a good dose of personality for a look that is fresh yet timeless.
So it's not surprising that when last year, they asked their audience if anyone was interested in Three Birds taking over their renovation project - handing over their keys, creative control AND budget - over 800 Sydney-siders submitted their homes for consideration.
A small cottage located in north-west of Sydney, owned by mums Sarah and Cath (along with their two sons, Chaise and Addison) was the lucky recipient of Three Birds magic wand.  The result is a beautiful renovation that is fresh & modern, without ignoring the original workers style cottage home.
We were lucky enough to speak to Bonnie from Three Birds Renovations to find out more about the project, their inspiration and what they look forward to seeing more of in homes for 2021.
It must have been a hard task deciding which house to choose after you announced to your audience you were taking submissions to renovate one of their houses. 
How did you narrow it down to just one? What was it about the Windsor cottage that made it a great candidate for renovation?
OMG you're right - we were totally swamped with submissions which came as quite a surprise! We had no idea that so many people would be willing to hand over their hard-earned cash to us!
We received over 800 applications in total and had a fancy spreadsheet, full of macros, working overtime to help us narrow down our options. House 12 to be had to fit certain criteria in terms of location (close to Sydney to allow us to be on-site often), a scope of work that could be completed within 12 weeks, realistic budget to achieve bang for buck and of course homeowners who really were willing to handover total creative control to us.
After many shortlists and site visits, we just knew this little Windsor Cottage was a winner!
We love the vision board you created for House 12.  Where do you find your inspiration?
Aw, thanks lovely! Our vision board is the first and one of the most important things we do for every project and the very first thing we teach our students in the Reno School too. It's really the key to the success of your entire renovation!
We find our inspo from so many places - Instagram, Pinterest, glossy mags, hotel websites and our own travel (although there's a lot less of that these days! #damnyouCOVID) We save images as we come across them so that when we come to designing a new home it's easy to pinpoint the inspo pics.
Your homes are always impeccably styled.  Where are your favourite places to shop for those perfect finishing pieces?
Where do we start?! We've got a list as long as all six of our arms! Freedom is always a fave for affordable style furniture, we've got a penchant for Oz Design Furniture's cloud-like sofas (with washable covers, of course!) and then we love many boutiques such as Sea Tribe for gorgeous individual styling pieces.
We loved seeing some Sea Tribe pieces in your latest project.  What drew you to these items?
As you know from our vision board, our whole vibe for this house was warm and textural with natural tones and Sea Tribe had so many gorgeous pieces that fit this brief!
We chose the Casa jute ottoman for one of the boy's bedroom as a handy stool and the woven jute brings texture to the rooms.
You'll notice the Folk cushions are in both kids' bedrooms - they're fun without being childish which his what we aim for when designing kids' rooms.
When designing a home, do you have any features you consider a must-have for almost any type of home owner/family?
We're big believers that the best layout for a modern family home is an open plan kitchen and living area that opens to the outdoor entertaining space.
It encourages families to spend time together and allows for a seamless flow between these areas. So, for us, old-fashioned separate rooms must go!