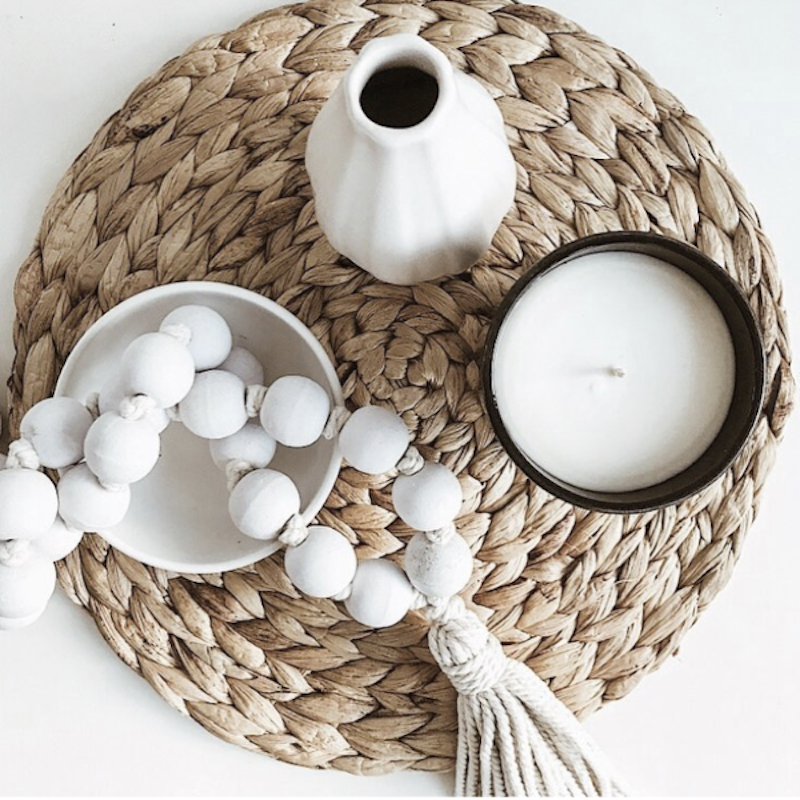 There are only 2 short weeks left 'til Christmas, and if this year is anything to go by they are going to fly by!  And with most of us being encouraged to socially distance, it's a great year to avoid the crowds and organise your gifts online.
Read on to discover some of our favourite pieces for holiday gifting, no matter who you're buying for.
THE HOMEBODY
This year more than ever, many of us have been spending more time at home.  If you know someone who has really embraced this and is all about making their home their sanctuary, they'll love these.
Pictured clockwise from top left: Lulu Linen Throw, Brass Palm Wall Hook, Shell Coasters, Rose Quartz Tealight Holder
Any true homebody would adore a new throw, whether it's for cosying up to on the lounge or giving their bedroom a makeover; a wall hook (or three) is a beautiful yet practical option for keeping things organised and off the floor; some shell coasters will add a bit of a holiday vibe while staying at home while a pretty tealight holder will help create a homey, relaxed ambience.
THE INTREPID TRAVELLER
On the opposite end of the spectrum are our friends and family who haven't quite embraced being stuck at home.  These guys love travelling to all corners of the globe, searching for experiences far and wide.  
While we can't quite satisfy our travel lovers just yet, the next best thing is to bring some travel-inspired pieces into their homes.
Pictured clockwise from top left: Binga Basket, Palm House Print, Kilim Cushion, Holiday Print
Take your family and loved ones on a virtual world tour by gifting them items sourced from exotic locales such as Zimbabwe and Turkey, or give them a window into a favourite locale with a travel-themed wall print.
THE BEACH LOVER
This one is for those you know that style their hair with salt water and constantly have sand on their toes (or wish they did).  These pieces will keep them happy until their next trip to the beach. 
Pictured clockwise from top left: Malibu Bag, Coastal Shell Chandelier, Hula Sun Hat - Tan, Urchin Shell decoration
What beach dweller wouldn't be thrilled with a new bag to hold all her beach essentials, a shell chandelier to bring the beach indoors, a straw hat to double as suncover and beachy wall art, or a seaside inspired decoration for her home?
THE BOHO BABE
Lovers of all things bohemian, unconventional and a little bit folksy will love a unique gift that speaks to their personality and lifestyle.
Pictured clockwise from top left: Malibu Boho Backpack, Folk Throw - Luna, Folk Lumbar Cushion - Adele, Beaded Decorative Tassel
The boho babe in your life will be thrilled with a cute bag to hold their everyday essentials, a gorgeous throw to go with their boho home (and double as a beautiful blanket for their next picnic), a folk inspired embroidered cushion and a decorative tassel just because it's lovely.
THE THANK YOU GIFTS 
Most of us have a range of people in our life that do so much we're grateful for - teachers, babysitters, neighbours, coworkers.  These ideas are easy on the wallet but pack a big punch in showing how much we appreciate these special people in our lives.
Pictured clockwise from top left: Shell Key Ring, Cove Shell Cup, Brass Pineapple Key Ring, Oahu Crochet Shell Pot
Our range of gift ideas under $20 are beautiful, thoughtful and personal, and will give them that summer feeling all year long.
And if you're all organised with no more gifts to buy?  Don't forget yourself - after the year that's been 2020 you deserve it!