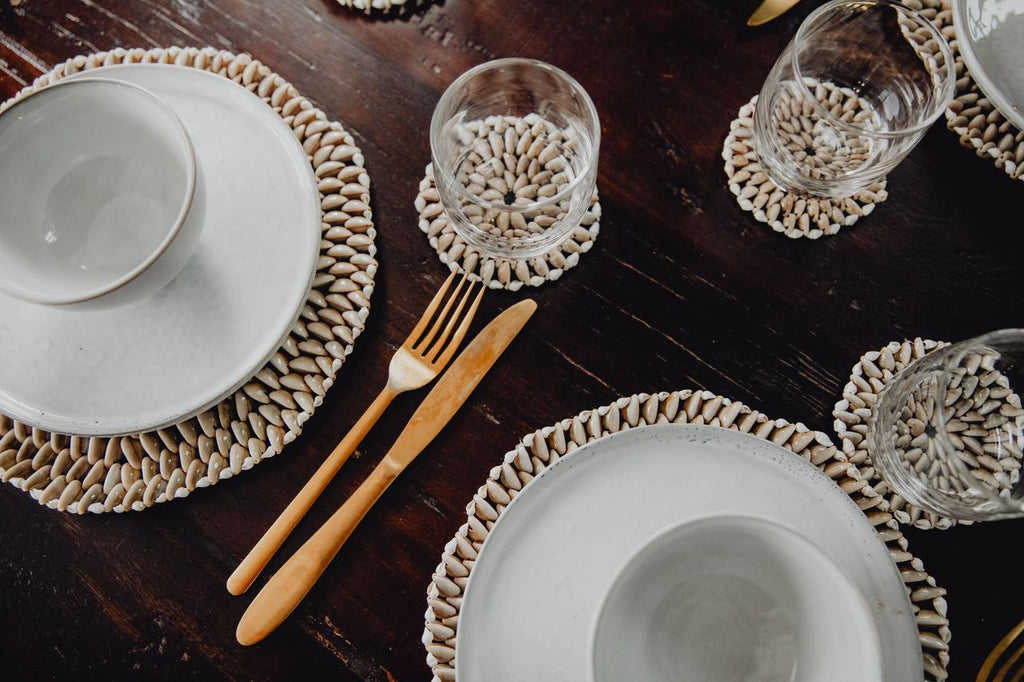 The weather has well and truly started heating up across Australia, and with it come all the beautiful Christmas decorations.
And while they're traditional, it can seem a little incongruous decorating with holly, snowflakes and bright red bunting when it's well over 30 degrees.
We're thinking that instead of the usual seasonal swag, a coastal Christmas theme could be just the ticket - fresh & modern yet still festive and bright. Not only will it be a better fit for our relaxed, long Summer days, but it's also more likely to blend seamlessly with your existing interior style.
For a coastal Christmas look, stick to a fairly neutral palette in shades of white, introducing different textures to keep things interesting.  This will maintain that beachy boho vibe. 
For the tree, use mostly white decorations for a fresh, coastal feel - some gorgeous shell decorations would be perfect (and can be used long after the holidays have passed to decorate a bottle, vase or handle).
On the table, create a relaxed, sea-side vibe by using a tablecloth in fresh white linen, or perhaps shunning the tablecloth altogether and replacing it with placemats and coasters - something in natural timber, jute or shell would be perfect. 
Add some fresh greenery - simple eucalyptus boughs can be stunning, and will give the table a truly Australian feel (not to mention a beautiful scent).
You could also use some greenery, a star decoration (or a combination of both) on the back of each chair at the table, for a sweet, festive feel.
If you're all about the beachy, boho vibe but still love a bit of bling, add some brass accents to your table and home in the form of spoons, bottle openers and figurines - the metallic finish will add some Christmas cheer without sacrificing your style.
Around the home, instead of traditional candles and lanterns you could use shell tealight holders - these will create a festive glow while still maintaining that coastal ambiance.
In the mood for some Christmas cheer? Make everyone's spirits that little bit brighter with a cute bar cart - this will make sure all of your favourite festive tipples are kept close to hand, making it easy for everyone to get into the Christmas spirit on the big day.