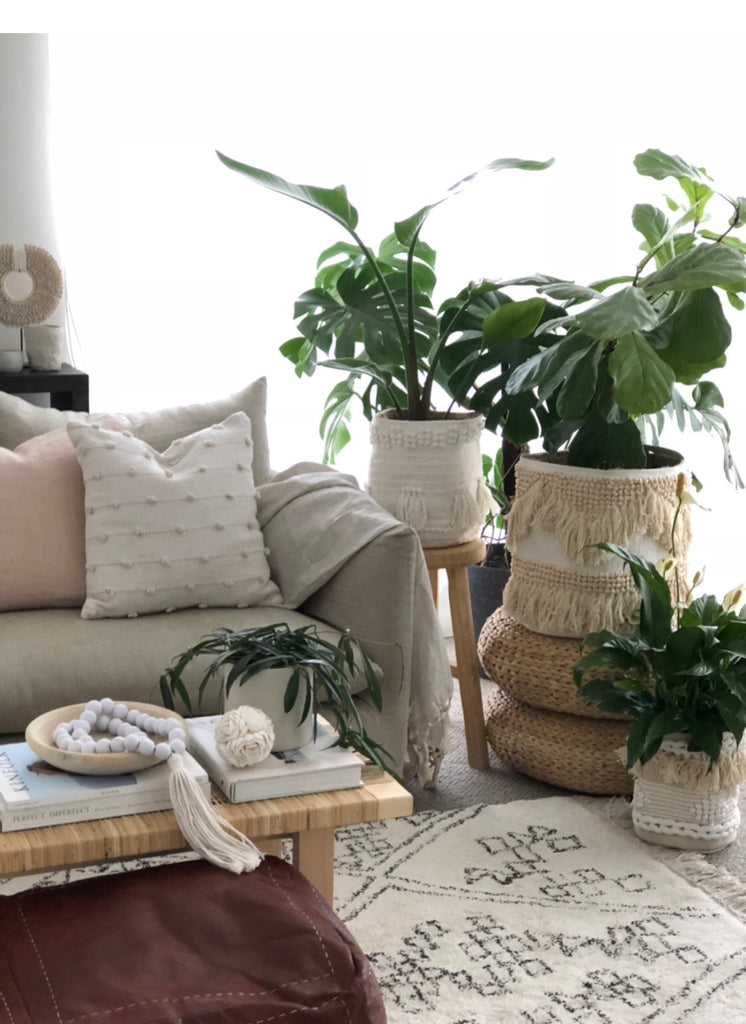 Written by Bettina Brent
My love of greenery started after we renovated our first home, I found myself at local markets buying all sorts of amazing varieties. Some of them survived; sadly lots of them went to plant heaven. I love indoor plants but I can't deal with needy, high maintenance types.
My greatest plant mumma mistake has been loving them too much by way of over-watering. I water most of my plants weekly but my secret weapon is self watering pots, cheapo ones from Bunnings that let me move them around into different beautiful planters or baskets. (like Sea Tribe's boho baskets- Eden, Avalon, Hendrix & Kirra).
The corners of rooms are perfect for styling bigger plants, either by themselves or in a group of three. I usually choose one structural and a few bushy guys. If I need one to be a bit taller, I use a stool or plant stand to give it height.
Shelves are the best for smaller plants and dangling leaves, I mix them up with coffee table books, crystals and ornaments I've collected.
Trailing plants are a favourite in my bathroom, I have easy to grow Devils Ivy on a shelf in the shower and in macramé hangers (like Sea Tribe's macrame plant holders) over the bath.
I love a cluster of smaller succulents together on a coffee table, placed on a tray or book with some other accessories like a candle, beads or balls (like Sea Tribe's shell balls, quartz tea-light holders or beaded tassels).
Indoor plants are so easy and cheap to style with, they go with every home's decor, they make the area look and feel better and there's no other accessory that does the same for a space.