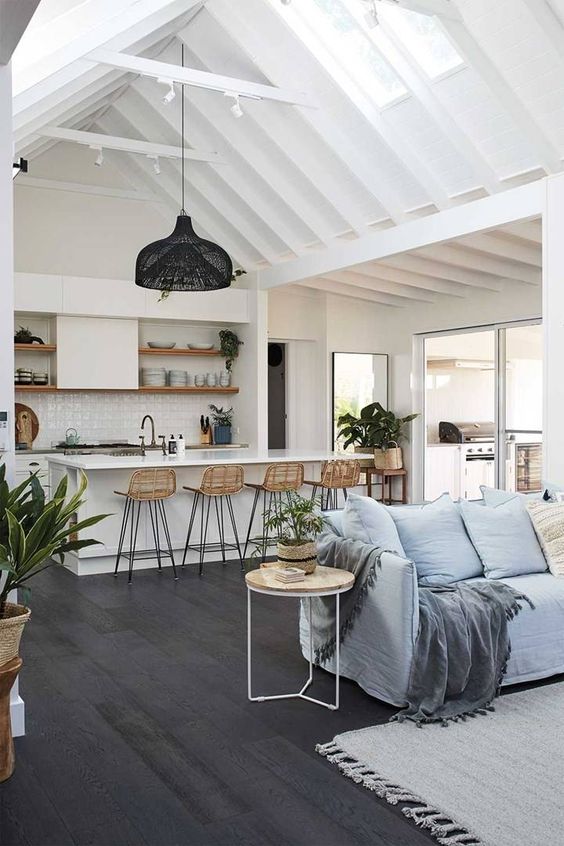 We spend the majority of our time at home, so when we do, it makes sense to want to bring that holiday feeling into our own abode.
Whether it's a rustic country retreat, a coastal beach house or a hidden tropical inspired villa, holiday homes/villas are a fantastic way to spend your well-earned time off, as well as being a great source of design and decorating inspiration.
We've taken influence from holiday home trends around the world to bring you our top 10 decorating ideas that can easily be incorporated into your own interiors;
1. Rattan Furniture
Rattan is known for its durability and affordability. Not only that, rattan furniture is a perfect fit in beach houses and coastal style holiday properties. The natural look and stylish appeal of rattan add texture and style to a room, which is synonymous with tropical villa living.
2. Jute Product
Jute is a subtle, yet durable product taking off in the interior styling world. A fast-growing, renewable natural fibre- it is not only environmentally friendly- it's stylish, affordable & looks great in a variety of spaces. The easily maintained material gives holiday homes a coastal bohemian edge, as well as offering a contemporary look and feel. Additionally, decorating a room with jute hues adds depth, giving warmth to your home. 
The stunning Casa Cook Hotel. Visit www.casacook.com to see more.
You can shop our range of jute product here;
https://seatribe.com.au/search?q=jute
3. Textured Textiles
Statement textiles are often embraced in holiday homes, especially when they are made of natural fabrics (such as linen eg. our Lulu Linen range) that are easily laundered, yet playful and interesting in design. Textiles play a considerable role in decorating a house and help make holiday homes feel warm and inviting. Something as simple as a textured throw or cushion can add a new dimension to your styling.
4. Neutral Palettes
By sticking with a neutral palette, not only does it give you the flexibility to change your decor more readily, it also evokes the colours of nature, reminiscent of your home's surroundings (whether that be coastal or country). We are seeing a movement towards sage green, tan, seafoam, rust, dusty corals, along with the standard neutrals of white, natural and black. By pulling these colours into your styling, you are helping to connect your space with the outside, creating continuity and flow.
Tallebudgera reno (master bedroom) by Cedar & Suede www.cedarandsuede.com.au
You can shop our range of core neutral product online www.seatribe.com.au
5. Interior Plants
Helping to connect with the outdoors, and also bringing life into your home styling is where indoor plants come into play. For the ultimate in beach house styling you may opt to bring in a large strelitzia or Kentia palm to help fill a naked space. The latest indoor plant trend we are seeing is the introduction of olive trees. Their small leaves and sparseness accent a space rather than overwhelm it. Not only do indoor plants improve air quality, there are so many different ways you can style them- from a cascading devils ivy in a hanging plant holder to a small potted cactus grouping, right up to the larger statement plants.
Image found via www.chrislovesjulia.com
You can shop our range of plant holders here;
https://seatribe.com.au/collections/plant-holders
6. Shell Accents
If you're looking to create a coastal beach house feel in your home, there's no better way of doing this than bringing accents of shell decor into your styling. From a simple shell necklace hung on a wall to a statement shell chandelier in the corner of a room, a few key coastal pieces will give your home an instant beach house update. Coupled with natural textures like linen, and grounded with rattan furniture, shell decor is a great way to add some coastal indulgence to your home.
Image via Harper's Bazaar www.harpersbazaar.com
You can shop our range of shell decor here;
https://seatribe.com.au/search?q=shell+decor
 7. Candles
8. Wall Hooks
It may sound like an unnecessary purchase, but wall hooks are one of the greatest investments you'll make for your home. With so many places to hang them, you'll want some in every room and outdoor space. Not only do they look great, they are really practical. In an outdoor area, you can use them to store towels, gardening equipment, beach chairs and more; whilst inside you'll find many uses for them- from storing bags, hats and accessories to pretty decor pieces. 
9. Ottomans/ Poufs
Speaking of practical pieces, every holiday home needs an ottoman or two. They can be used in various ways around the home- from a foot stool to extra seating, or simply as a side table. Being lightweight, they are easily moved from room to room as needed- giving you endless styling options. By choosing a durable quality material like leather for your pouf, you will have a piece that will last for years to come. 
Image via The Soul Cottage. Visit www.soulofgerringong.com.au
To shop our range of ottomans visit;
https://seatribe.com.au/collections/ottomans
10. Wall Decor
Nothing speaks more of the style and feel of your property than what is hanging on the walls. A country style retreat may opt for a horse, highland cow or bush-land print, whilst a beach villa would be more inclined to choose surf, water and coastal inspired prints. By introducing key artworks around your home, it will give you an instant feel about the type of home you're in. Setting the mood for what the rest of the house is about, wall art is an easy way of bringing a particular style into your home. We love to mix wall art up, offering a combination of both prints and interesting decor eg. macrame wall hangings, jujus, mirrors, etc.
The Block's Dea & Darren's Melbourne Home. Image via www.tlcinteriors.com.au
You can shop our range of wall decor here;
https://seatribe.com.au/collections/wall-art