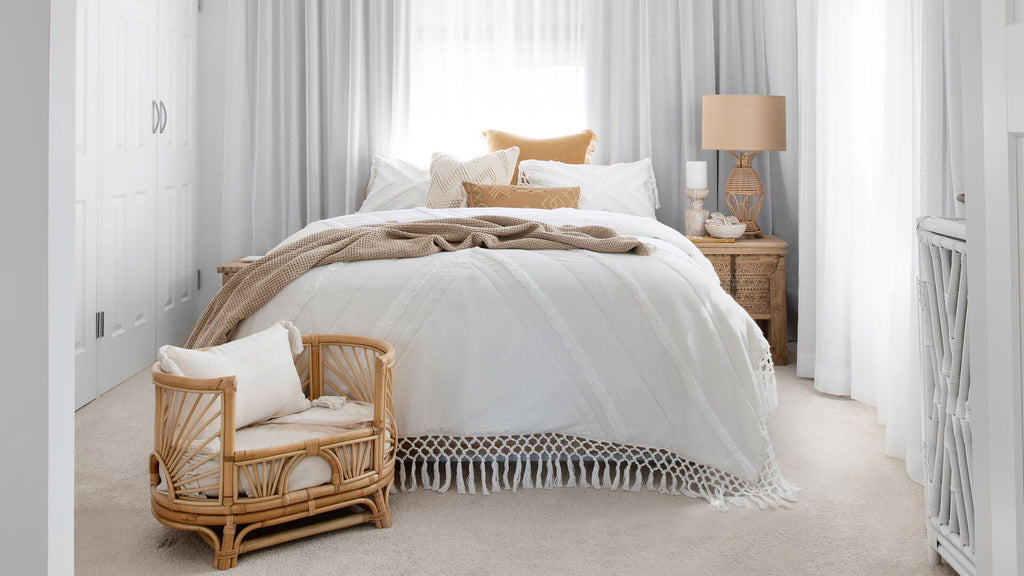 Travel might be off the menu for now, but that doesn't mean you can't get that holiday feeling at home. By moving a few pieces around and perhaps adding some new ones to your collection, you'll love having a new space to admire until you're able to fly the friendly skies once more. 
Whether it's a traditional handwoven tribal piece to inspire your future travels, or a print of a destination you've been to time and time again, some new wall art will give you a new perspective on the walls around you and give you a window into another place and time. 
And if all else fails? Add a new mirror to your collection – it will make your living space look larger and brighter, ideal for when you're totally over being stuck inside your four walls.
Another option is to set up a gallery hang of trinkets and photos from past trips - add in some new pieces to mix and match for a fresh look that is unique to you and your style.
When it comes to your bedroom, it's hard to get that holiday feeling if you wake up in an untidy room, on (unintentionally) mis-matched sheets and pillows that you've had since time began. 
First up, we recommend a big declutter.  Many of us are guilty of keeping living spaces tidy(ish) and leaving the bedroom as a dumping ground, but you'll never feel like you're on vacation if you have to wade through a pile of laundry and lego just to get out of bed.
If you can, treat yourself to fresh linens and pillows, or at the very least wash and air what you have – pillows and quilts need sunshine almost as much as we do!
Add a luxe coverlet for style and warmth along with plush decorative pillows and for the ultimate boutique hotel feel, some fresh flowers and a lovely candle. 
For a truly relaxing staycation, we love the idea of a home day spa or just a dedicated relaxation space, where you can unwind after working from home and/or dealing with homeschooling.
Add in a few pieces that really take your mind off things – a scented candle (something inspired by a Moroccan market, or Tahitian flowers, perhaps), some comfy cushions to sink into, a beautiful throw, an ottoman to put your feet up on, chilled tunes and maybe some shell décor to transport you somewhere far, far away.  Cocktail optional - but highly recommended.