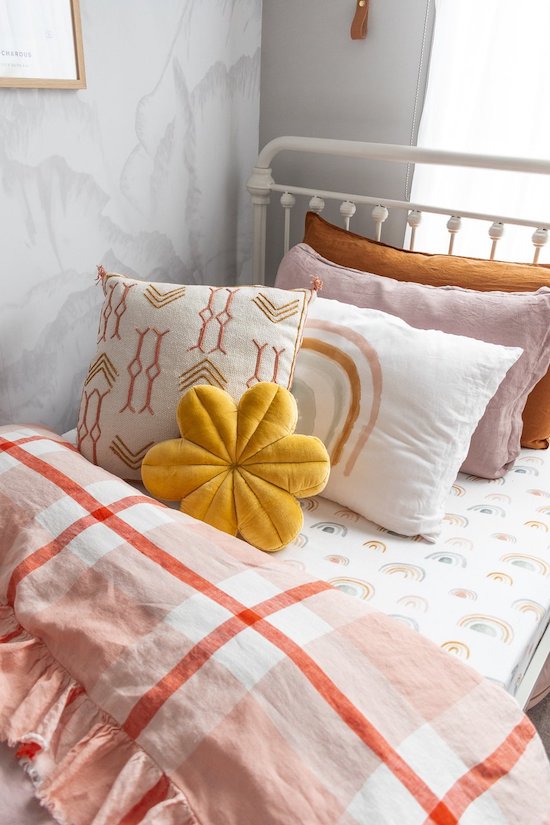 Gone are the days where you could only choose between blue and pink for kids bedrooms.  Nowadays they're just as likely to fit in with the overall aesthetic of the house (and for that, we are truly thankful!)
If you love coastal, boho or scandi styles, the neutral palette lends itself beautifully to childrens rooms – it allows them to integrate their own tastes and styles using bedding, artwork and toys, to create a look that gives them some control without being an attack on our senses.
Image: Three Birds Renovations
A neutral palette also gives the room longevity – as the child grows and their interests change, it's easier (and cheaper!) to update with soft furnishings and artwork rather than replacing that hot pink bedroom suite they loved when they were 7 but not so much now that they're 13.
Starting with furniture, timber, cane and rattan in neutral or white is the ideal choice – these pieces will stand the test of time and will pair with any other colours you or your kid choose to introduce. 
If you have the space, a hanging chair is a great addition – what child wouldn't want one of these?  They make a sweet reading nook when they're little, and a favoured place to hang out with friends as they get older.
To keep things tidy, storage is king.  Aside from somewhere to store clothes and schoolwork, don't overlook having somewhere to put all the tiny bits and pieces kids tend to accumulate (lego, barbie shoes, matchbox cars, hairbands and the like).  
A good option for these are woven baskets that are easy to quickly throw things in without having to think too much about where things belong.  They also look much better than a plastic alternative.
It's nice to have a few extra cushions in kids rooms – ideal for creating little reading and daydreaming nooks, they're also useful for seating when friends visit. 
A beautiful throw blanket will tie the room together, and of course they're not only practical throughout the year but make the most excellent forts!
Once you have all the furniture in place you can look for ways to decorate the walls. Older kids will probably have pretty firm ideas about what they want to do here, but younger children can be persuaded to your way of thinking!
A cute mirror is a good idea and will give little ones some independence in getting themselves ready.
We also love the idea of hanging souvenirs from past trips or prints of places that will hopefully inspire our little ones to see the world when they're older.