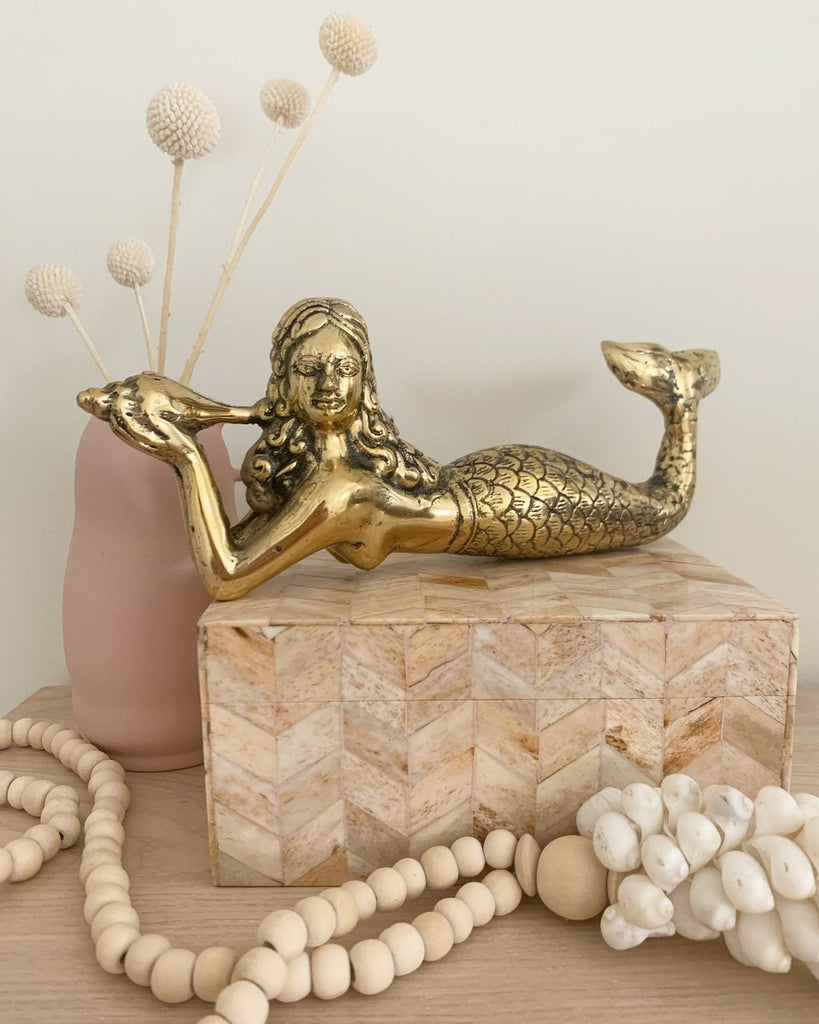 There's just something so special about brass.  It has a gorgeous shine to catch your eye as you move about a room, without being too much "bling"; its golden hue pairs so beautifully with a range of décor styles – whether you favour a neutral or colourful palette, or your style is more bohemian or contemporary coastal - brass décor is the perfect accent.
Being so versatile, it's no surprise that much of our brass collection sold out so quickly when we first introduced it to you – but happily we've just had another restock so you can grab that perfect piece to add to your collection.
One of your favourites is our gorgeous golden mermaid – this item will look absolutely stunning styled as a vignette amongst candles and books, or on top of one of our bone inlay boxes.
Our brass crabs and clam shells will look amazing in any home, but we really love the idea of having them on display in a coastal inspired setting; either on their own in a bookcase or side table, or styled with other beachy pieces such as coral or shells.
If you like your accent pieces to be a little more functional, our brass wall hooks are the perfect solution.
These look amazing as stand-alone wall art, but of course you can put them to work as storage solutions for hats, bags, coats and umbrellas – anywhere from your bedroom & hallway to indoor/outdoor living spaces.
Any of the pieces in our brass collection will also make gorgeous gifts for your mum, sister or best friend – after all, who doesn't want a little more beautiful brass in their life?
CLICK HERE to shop our brass collection