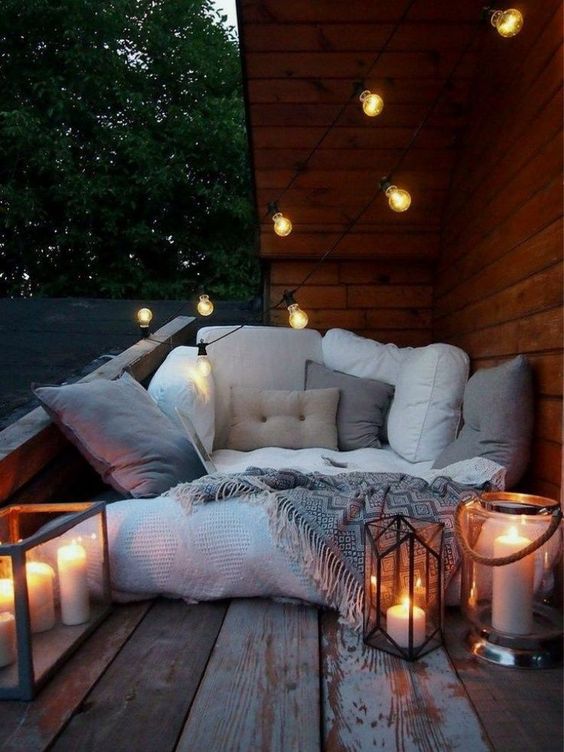 There's no need to say goodbye to your deck (or garden, patio or veranda) as the weather cools down - there are a number of easy and affordable ways to extend the life of your outdoor living space so you can enjoy it all year round.
LAYER LOVE
One of the main reasons we stop heading outdoors in the colder months is the fact that it's, well, cold.
One way to combat this is by having a range of cosy layers on hand to drape across a lap or shoulders – grab your favourite human (or fur baby) and share a blanket for maximum cosiness.
Blankets will not only provide added warmth but will also make outdoor spaces look more inviting when it's chilly out.
A scattering of textured cushions will also add to that warm, snug atmosphere; not to mention that sinking into a pile of cosy cushions is a lot more inviting than sitting on hard outdoor furniture on a cold winters night.
If you like a tidier, more minimal look simply pop a selection of blankets and cushions in a basket, ready to use as required.
CAN'T BEAT THE HEAT
We love a fire pit over the winter; it's the perfect chance to relax and unwind with our family on the weekend with a hot chocolate or a glass of wine.
A fire pit is one of the easiest ways to extend the life of your outdoor space – once that fire's going everyone is going to want to sit around it for hours on end!
If your outdoor space doesn't allow for a fire pit due to space or height restrictions, there are a wide range of outdoor heating solutions ranging from low cost to high end, depending on how much space you want to heat and the look you're after.
LET THERE BE LIGHT
Along with cooler weather comes shorter days, but don't let a little darkness get in the way of spending time in the great outdoors. 
Adding some new lighting will not only give your space a new look for the season; it will also create a gorgeous warm glow – a string of fairy or festoon lights, or vintage style paper lanterns will light up your outdoor area quickly and easily; another easy affordable option are candles for a cosy and romantic effect.
(image source: Pinterest)
RUG UP
The last thing you want is cold feet!  Add some warmth with a rug to rest your feet on; or mix and match a few smaller rugs in differing patterns and/or textures for a modern bohemian look you can change around as the mood strikes you.
Main image from My Scandinavian Home