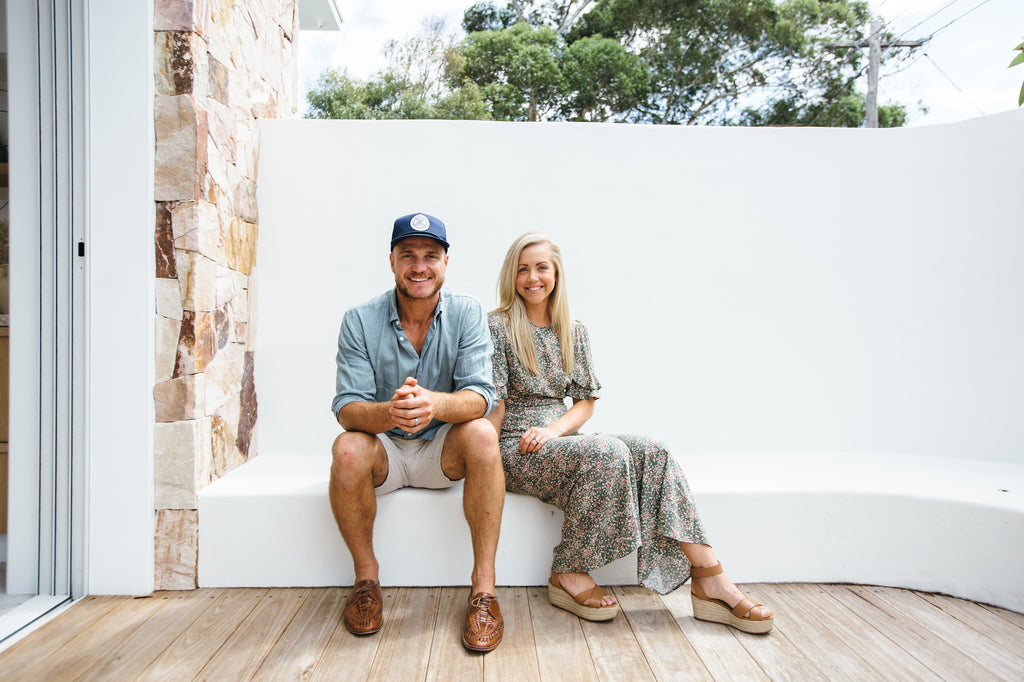 With a keen eye for contemporary design and beautiful finishes, and more than 35 renovation projects under their belts, Kyal & Kara Demmrich are a force to be reckoned with.  
We were lucky to have the opportunity to chat to Kara to find out more about her sources of inspiration, her renovation advice, and how she manages to create a beautiful, yet child friendly home. 
We are in love with your latest project.  Could you tell us a little about your inspiration for this home?
Thank you. We purchased the little Blue Lagoon Shack over 5 years ago prior to having kids. We set about designing a family home and quickly discovered we didn't really know what we wanted in a family home.
So after living in the shack for 6 months we leased it back out and moved onto other renovation projects. Fast forward four or so years, we revisited the plans.
Our inspiration all stemmed from the idea that we wanted the living spaces to open out onto the backyard. Instead of the more traditional "rear" backyard our yard is in the middle of the block with the lounge room, dining, kitchen and rumpus all opening out onto the yard.
With this in mind, we were after a villa style yard and a really seamless flow from the outside to the inside. We love sandstone and coastal tones so we coined our style for this home "Australian Beach house meets Mediterranean Villa."
What are your tips for making design both look good and be family friendly?  
In the design phase of your project, think about how you'd like to live as a family.
Generally speaking, our Australian lifestyle lends itself to indoor-outdoor living and an open plan feel – so look for opportunities to create a seamless flow from the kitchen and living spaces to outdoor areas – which also gives the illusion of more internal space.
Hardwearing surfaces! At any given selection, think about how well the product will fair with kids. We've always loved timber flooring but you need to accept the fact that timber floors will scratch over time. With kids and a dog, we've always accepted this and felt it added a certain element of character to the home.
If this bothers you, you're best off selecting a more hardwearing floor such as polished concrete or tiles – which have their advantages in that you can have underfloor heating.
When it comes to the walls, our last few projects we've used a mix of Gyprock Superchek and Easycraft, which are much more durable than standard plasterboard and will withstand kids toys/kicks etc.
Do you have any advice on how to reduce your overall renovation budget and/or what would you suggest never scrimping on?  
Ensure you're allowing yourself time to obtain quotations and look at all available options before rushing into selections. It's never too early to begin planning your renovation or new build. When the time comes, you'll be much more informed about the value of items or services and won't need to make impulse selections.
There are plenty of amazing, cost effective, or budget tile options available today – which is a great way to save money in wet areas, kitchen or living spaces. We advise people to never scrimp on plumbing and tapware, the results of which can be costly! 
For people with a limited budget or looking to renovate their house in stages, where would you usually begin?  
We suggest starting with your own bedroom – it can be a sanctuary that you retreat to at the end of each day – especially if you will be living through renovations for sometime. Not to mention the fact that we spend such a large percentage of time sleeping – it's a great way to invest back in something that's so important to wellness (sleep).
Next up I'd look at the main living spaces – many of the older style homes don't open up to the yard – and see if there's an opportunity to install a large sliding door or bifolds that can instantly add natural light and create more living space out onto the backyard.
If you could redo anything in your current home what would that be?  
Hmmm… that's a tricky one to answer! I love what we've done. We've only been here just over 6 months – so maybe that's one to ask me in a couple of years!
What's your favourite feature in your new home?  
All the sandstone walls – I love that we've used the sandstone inside and outside – the colours and textures create a beautiful warmth. We moved in autumn and have enjoyed the fireplace for months, and now that the weather is warmer we love nothing more than opening up the sliding doors and enjoying the pool and yard. 
Where do you think home design and decor trends will move towards in 2021-22?  
I think the world wide pandemic has really made people reassess their home as a sanctuary. We've seen a huge spike in the renovation and DIY market with people spending so much time at home and investing in creating spaces that make them happy. I think this will continue for some time.
Colour wise, I think we'll see the reintroduction of warmer sandy and browner tones – colour that evokes feeling of comfort and warmth. 
What design and decor trends do you wish you'd never see again?  
Oh that's a tricky one to answer! I think the sleek, white, gloss kitchens that feel cold are a thing of the past but each to their own!
Cheap, poor quality furniture is something I've always cringed at, and would rather see people heading to second hand furniture stores and upcycling OR if the budget allows, investing in pieces that will withstand the test of time, as opposed to paying for poor quality products over and over again.
Is this your forever home?  If not, where might you see yourself in 5-10 years time?
It's our "forever for now" home ;) We're enjoying being settled in the one spot for the moment, especially with the kids being so young (and growing SO quickly) but I think as builders/renovators we're always looking for other opportunities.
We loved having the chance to chat to Kara about her home, and hope she's given you some food for thought if you're planning (or dreaming of) your next project. 
You can see more of Kyle & Kara's work over at https://www.kyalandkara.com/ and also on instagram @kyalandkara.
All images in this post by Grace Picot: Shot By Grace.