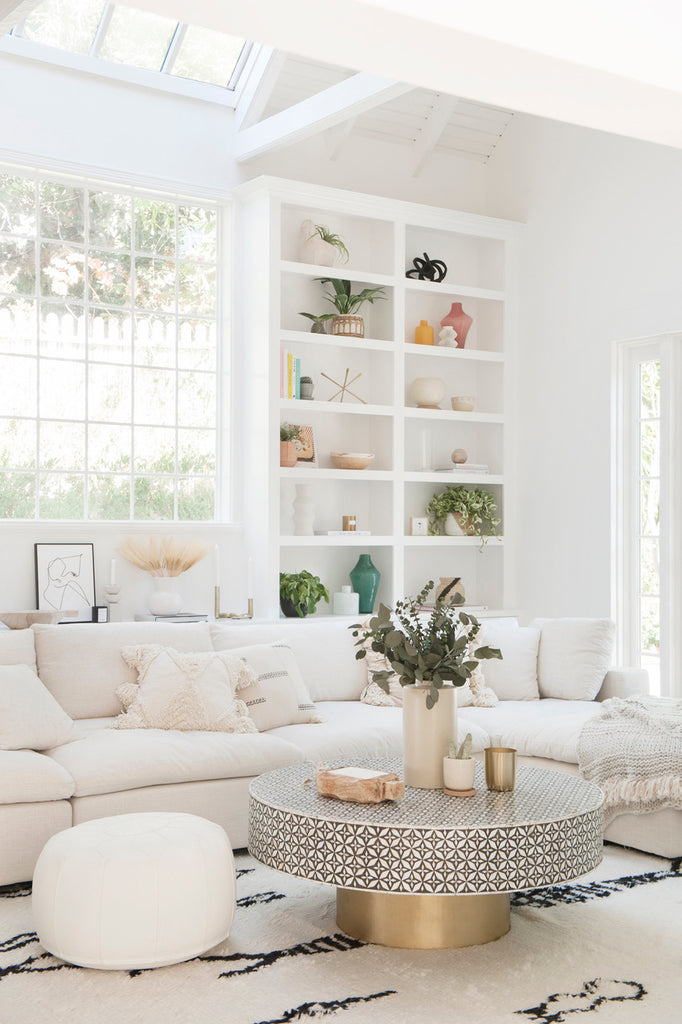 Welcome to our new series, "5 minutes with...".  We are looking forward to sharing some of our favourite interiors and lifestyle experts, finding out what inspires them and getting some advice on interior styling tips, tricks and latest trends.  
Today we had a chat with award winning interior stylist, Jessi Eve.  
With a knack for creating spaces that are beautiful, functional, comfortable and editorial-worthy, Jessi Eve's work has also been described as deeply considered, immersive, grounding and uplifting, all in the same moment.
Image: Amani Lindsell of The Women's Pic
Tell us a bit about yourself...
My name is Jessi, I live on the Coal Coast (south of Sydney) with my partner, Adam, and our daughter, Bindi (she's an English Staffy). I'm an Interior Stylist working with clients all around Australia and more recently, the globe, to bring them beautiful, comfy, magazine-worthy interiors.
Who inspires you?
From an interiors perspective, I love the work of stylist Simone Haag and architect Madeleine Blanchfield. When I see their work I think to myself "when I grow up…" and then the thought is interrupted by the realisation that I am already 33.
From a life perspective… my mama. (But maybe ask me again when I grow up…) 
Image: Petra Ford of Paper + Pate
When did you become an Interior Stylist?
I studied interiors about seven years ago after moving out of home and completely decorating my own space for the first time ever.
It unlocked something within me and the feedback from others was encouraging, so I explored the avenue further.
I started interning while I was studying to ensure I had all the knowledge and experience to hit the ground running on my own as soon as I finished.
What do you think it takes to become a great interior stylist?
Well, you obviously need to have an "eye for design" and what works aesthetically, but I think this can be developed and refined with practice so long as the keen interest for style is there – it is subjective, after all!
A great interior stylist has patience, is open-minded, creative and able to adapt. Honesty, communication and transparency are also important to ensure great results for your clients.
A unique, signature style doesn't go astray either to ensure you aren't just following the trends and blending in with the masses.        
Image: Louise Roche of The Design Villa (Villa Styling)
Could you give any advice for those just starting out? Did you do a particular course?
After completing my Cert IV in Design, I went on to a Diploma of Interior Styling at the International School of Colour + Design (ISCD).
My advice would be to intern as much as you can while studying. If you do a good job, the opportunities that come from those internships could be life changing.
They were for me, and got me to exactly where I am today – which is exactly where I want to be!
What has been your career highlight to date?
I'd have to say my recent trip to Los Angeles to install the most beautiful project I had been working on remotely from my Wollongong home studio! I had never been to The States before so to be there for a working holiday with my partner, Adam, was an absolute treat - many pinch-me moments during my time there.
Following that I'd say having my home and projects featured in industry magazines such as Adore, Inside Out, Real Living and Yen!
Image: Petra Ford of Paper + Pate
How do you balance your time?
Balance? Honestly, I don't think anyone should come to me for advice on balance. It's not unusual for my workdays to be between 10 -14 hours long and for two out of three meals of the day to be consumed at my desk.
I'm not proud of the hours I work but it's often the reality when you're running a business. What I am proud of, however, is how much I love what I do, so the volume of hours rarely has a negative effect!
What are your favourite trends for Winter?
I love the warmer tones we see around this time of year. I love terracotta, clay, ochre, warm whites and natural linen tones paired with deeper cooler hues like navy and dusty greens. I'm also loving all the boucle furniture we're seeing at the moment. So warm, inviting and cosy!
How can our Tribe book you and your amazing styling skills?
Head over to Jessi Eve to check out my services, portfolio and book a free interior styling consultation call!