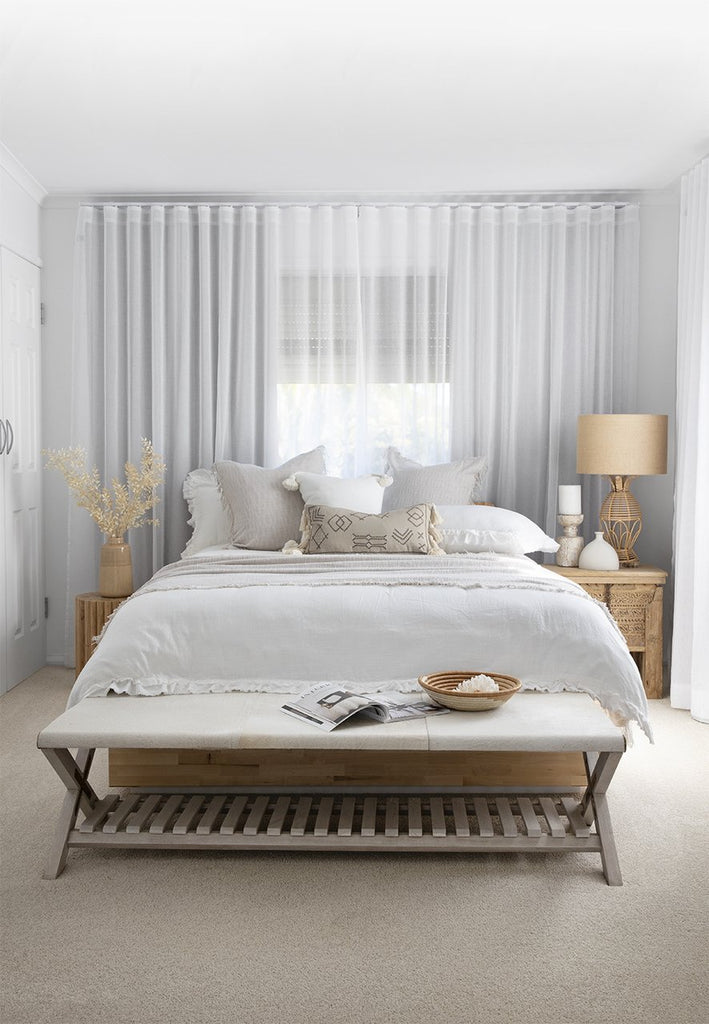 We've always loved connecting with our customers through Instagram, but never has this been more true than throughout the crazy year that has been 2021!
With many of us at home in lockdown through a good portion of the year, it's been amazing to see how you've been styling your homes and giving us a peek outside our own four walls.
As we head toward 2022, here are our most loved insta posts from the year that's been, to give you some inspiration for the new year.
Coastal blues
We're not surprised you loved this dreamy coastal palette - you can never go wrong with blue and white!
This gorgeous room features a combination of our cushions and throws, including the always popular Folk cushion and Harmony throw. 
Sweet dreams are made of this
From the layers of dreamy blankets, to the perfect tonal print-clash, to the eye catching textural pendant light - this bedroom is what sweet dreams are made of.
Styled by @VillaStyling at Ohana Beach House, this simple yet layered bedroom caught many an eye during 2021.
Beautiful Billinga 
This stunning bedroom, styled by @BillingaBeachAbodes, was super popular and we can't say we're at all surprised.
Featuring our stunning Amira coverlet paired with mustards and warm timber, this sunshiney room is a balm for the soul.
This bed cover is now sold out but you can still grab cushions in this gorgeous print.
Clean & serene
Another stunning room by crowd favourite @VillaStyling.  This clean & serene white space is enlivened with pops of coral and warm timber tones.  If you love this look as much as we do, try recreating it with a collection of our coral cushions.
Bathroom beauties
You loved our bath towels as much as we do - these sold out in record time! If you'd love to get your hands on some, keep an eye out on our socials to find out when they'll be back in store.  In the meantime, we still have limited stock remaining in the gorgeous "Bloom" colourway.
Understated elegance
This divine space, styled and captured by @VillaStyling, shows understated elegance at its best. 
Our ever-popular Ariel throw is paired with a selection of our cushions in this gorgeous light-filled space which is pretty hard to top.
Everything will be all white
To say you loved our Ariel throw this year is an understatement - it's been restocked over and over and we just can't keep it on our shelves.  
Simple white pairs with so many decor styles white the stunning scallop detail adds interest and makes it oh so inviting to touch.
This gorgeous image comes from @pinksugarstyling and we can see why you loved it so much.
Going grey
If this is what going grey means, we're all for it!
This space features a selection of our cushions and our Harmony throw paired with soft, sheer curtains for a look that is dreamy and super chic.
This perfect display of how to layer your bed was created by @VillaStyling.
Get hygge with it
This is our most popular post from 2021, and we're not surprised!
As we were forced into lockdown, so many of us were looking to create that perfect hygge space with layers of comforting cushions and blankets.  Or maybe it was just the stunning combination of terracotta, white and natural timber? Either way, we're totally on board with this beautiful space created by @VillaStyling.
We thank each and every one of you who has followed along with us this year, and love seeing your posts, comments and words of support - we couldn't have got through it without you all!  Thanks again, and here's to a happy and healthy 2022.