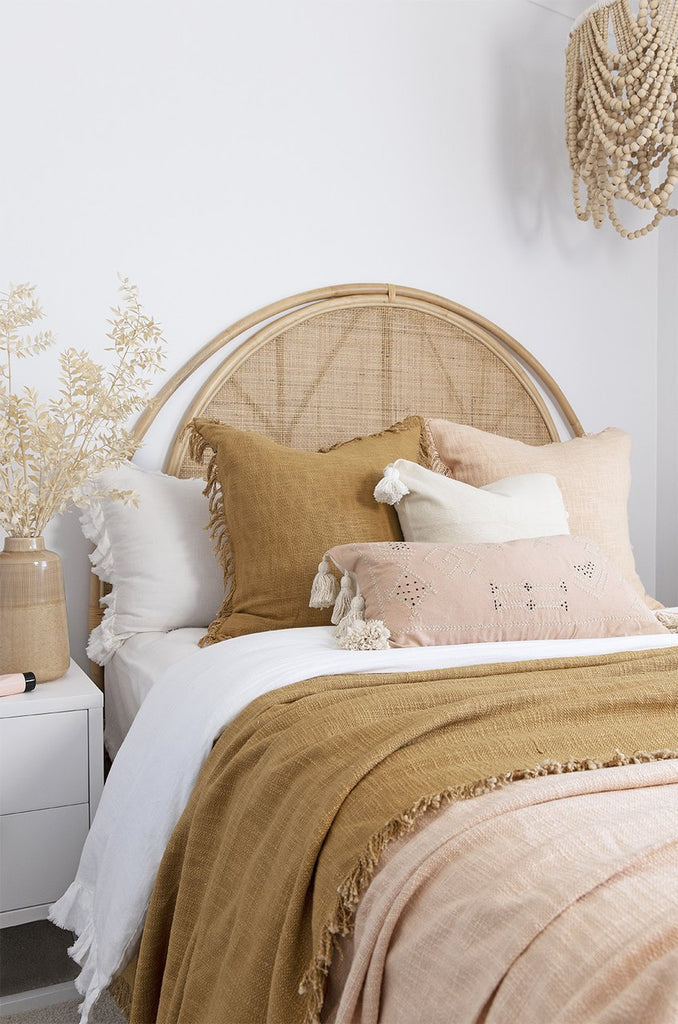 It's no secret that we love a boho style bedroom, and have been fortunate to work with some amazing stylists & photographers who know how to create the most amazing spaces.  
Here we will share with you some of our favourite modern boho rooms, and give you some tips & tricks to allow you to create your own dream-worthy sanctuary.
This stunning room, created by Louise Roche of Villa Styling, combines boho-staple rattan with fresh white walls and linens with soft furnishings in earthy shades of terracotta and ochre.
A beaded chandelier and macrame wall hanging bring the room together to create a look that is boho, yet fresh and modern.
Another room we just can't get enough of is this one, again styled by Louise @villastyling at Casa Campana.  
In calming whites and pale earth tones, it's serene and peaceful yet gives a subtle nod to boho style with the tassled throw, an array of textured cushions and organic sculptural pieces.  
This stunning room by Alicia @my.burleigh.reno gets SO much attention on instagram and it's no wonder - who wouldn't want to drift off in this dreamy space?
It's modern boho goals, complete with touches of rattan, macrame on the walls and of course, pampas grass.  The bohemian touches are tempered with a very neutral colour palette, which maintains a tranquil feel.
If you prefer an earthier boho style, you'll adore this room by Sarah @thebearcubclub. 
It features a stunning array of textures, quirky accessories and unique artwork - but instead of being overwhelming in a bedroom space, the tightly coordinated colour palette ensure this is a space here the eye (and body) can rest and find respite from the outside world.
Fore more inspiration for your own home, browse our full range of cushions, throws, furniture and wall art. 
Main image: Louise Roche, Villa Styling