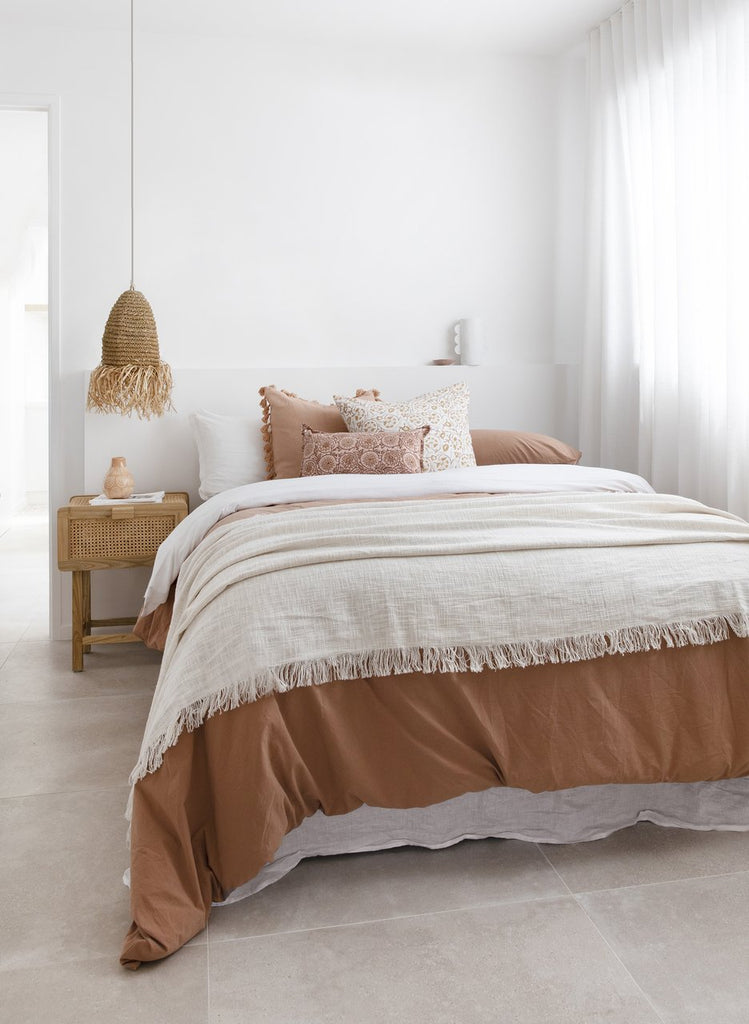 With many of us in lockdown or under travel restrictions, it's hard to say when we'll fell the joy of a freshly made hotel bed again.
The good news? bedsmade Founder and CEO, Matt Griffin, has given us some advice on how to replicate the look and feel of a luxury hotel bed that will make every night feel like you're on holiday.
Opt For An Almost All-White Colour Palette
Falling into a well-made bed feels more akin to snuggling up to a cloud, especially when the sheets are a crisp and classic white. To make your room feel more spacious, white bedding is key. It also acts as a blank canvas to introduce accents of colour for added personality and warmth.
Consider incorporating European pillows, textured throws or rugs to bring timeless pops of colour into the room. Shades like dusty rose, sage green, mustard yellow or earthy tones can be paired with a contrasting colour or left on their own to draw the eye, setting a calming mood to open your mind to relaxation.
Invest in Luxury, Organic Cotton Linens 
When investing in linen, it's important to look for a material that is soft and buttery, breathable as it is comfortable, durable and easy to clean. A material like organic cotton is an example of an all-natural, eco-friendly fibre that is going to contribute to an overall better sleeping experience. 
Selecting the right thread count when shopping for linen is an important element often overlooked. It can be easy to assume that a higher thread count means a softer fabric, however this isn't always the case. Ideally, you should aim for 400TC; this is the equivalent of what most luxury hotels use in their bedding.
Upgrade For Ultimate Luxury
The foundation of your bed is a comfortable mattress. To take your bedroom to the next level, the answer could be taking the plunge and upgrading to a bigger size - nothing screams luxury more than a king size bed!
Often the piece that also gives a hotel bed that 'cloud like' feeling, adding a feather bed topper will up the comfort and luxury that extra notch, one step closer to achieving the sleep of your dreams.
Make Your Bed Each Morning
While you're not responsible for making your bed when you stay at a hotel, you may find that a freshly made bed is an important part of your nighttime experience.
Making your bed in the morning not only sets you up for evening success, but it is the perfect way to accomplish the first task of the day, encouraging you to do more.
If this is something you struggle with, check out bedsmade - with 3 simple steps, they have perfected the art of making the bed that is quick, easy and trouble free.