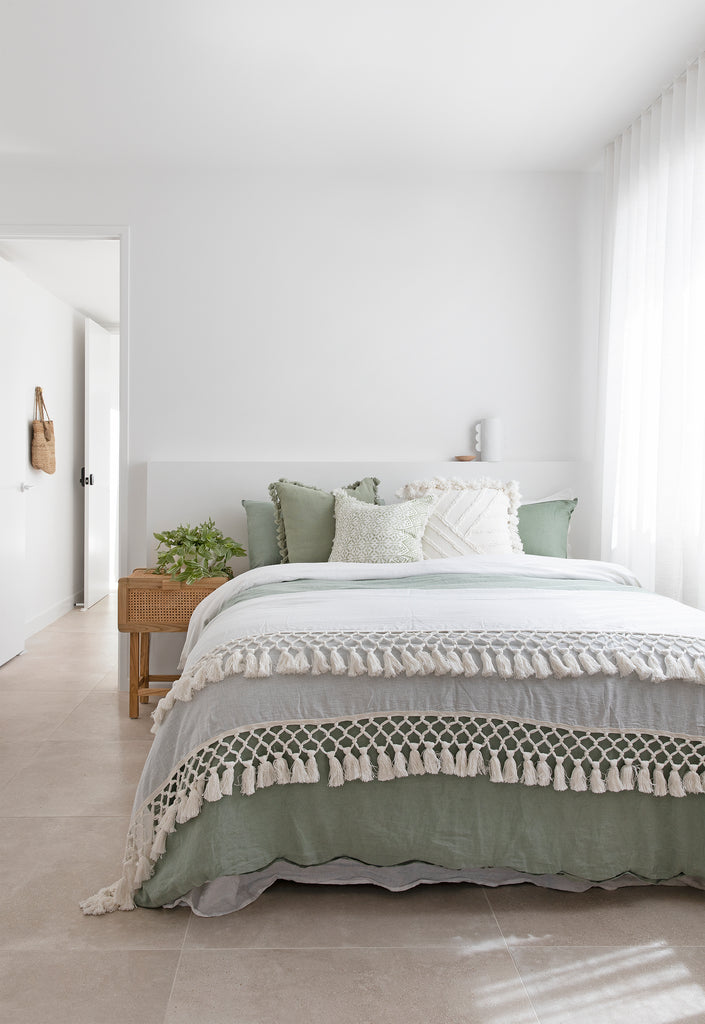 We're big fans of believing that there are no rules when it comes to styling your home - if you love it, then leave it!  But if you've tried styling your bedroom and it's not where you'd like it to be, here are some reasons why.
It looks like a showroom
While there is absolutely nothing wrong with a tidy bedroom, a room that's devoid of life can feel clinical and cold.  Make your room appear warmer (and less like a showroom) with a potted plant or some fresh flowers - even a single bloom or piece of greenery from your morning walk.  
This will inject some life and soul into your room and make it appear lived in, rather than a room that's just for display.
A plethora of pillows
Yes, we love cushions on the bed.  REALLY love them.  But sometimes less is more.  If you have so many decorative pillows that there's barely any room left on your bed, it's probably time to start rotating a few every so often.
This gives you the added benefit of being able to change up the look of your room each season - and will mean it takes less time to make the bed every morning.
Lighting liabilities
Is the only light in your room the one in the ceiling?  These might be the brightest but are frequently unflattering and often too bright for the task at hand. 
Softer lighting in the form of lamps and sconces creates a beautiful ambience and is ideal for pre-bedtime reading & relaxation.
Scarce seating
If space permits, it's lovely to have somewhere to sit in your bedroom, aside from your bed.  A comfortable chair is ideal for reading or chatting to your partner while they get ready, and also helps provide a relaxing, hotel-like ambience for your room. 
Word of warning: if this chair is only going to be swamped with laundry (we've been there) we suggest investing in a few different baskets to separate your dirty and clean laundry, keeping it out of sight in your relaxing bedroom space.
Personality disorder
So your bedroom has been Marie Kondo-ed within an inch of it's life and is looking super minimalist and tidy..but is there any of your personality left?
Your bedroom is your sanctuary and it should be a space where you surround yourself with things that make you happiest.  Whether that be some framed photos or souvenirs from your travels, it's nice to have a little of your personality shine through in your bedroom.
Nowhere to rest your feet
Those with carpeted rooms mightn't need to worry about this, but for those of you with tiled or hardwood floors, having a rug to step on when you first pop out of bed doesn't just feel great on your feet (especially in Winter!), but really ties a room together and makes it look that little bit more polished.