Lily Four Door Sideboard- American Oak
Sea Tribe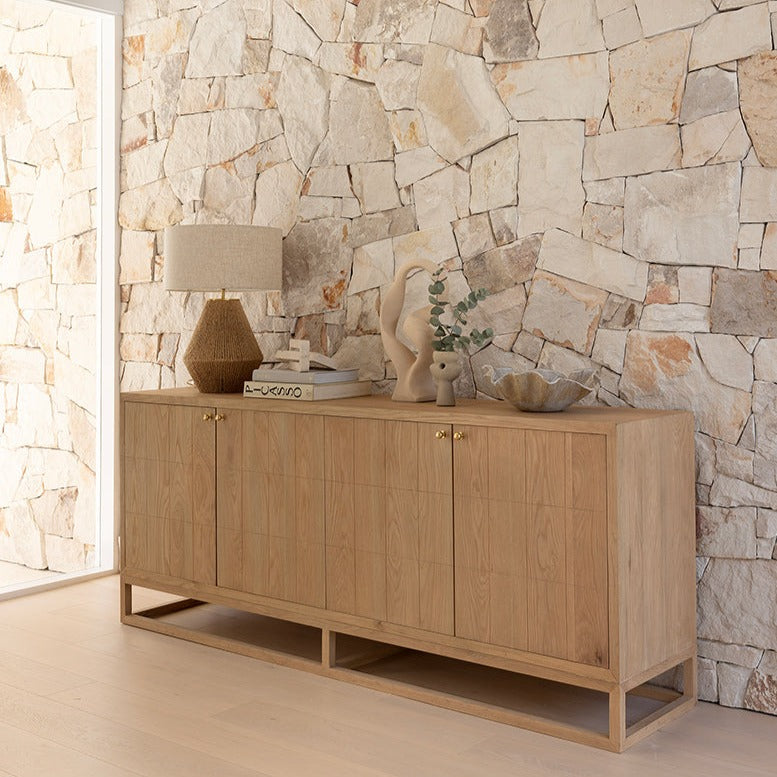 The Lily Four Door Sideboard is made from 100% American Oak and its finish is smooth to touch thanks to the Osmo PolyX Raw Oil finish. This sideboard is extremely solid, perfect to be handed down from generation to generation.
As this product is made with natural timbers, colour variations do occur including panels/doors of differing shades and brightness. We believe that this enhances the natural charms and raw characteristics of the item.
Dimension and Care;
Width: 200cm
Depth: 45cm
Height: 82cm
PLEASE NOTE- DELIVERY COSTS VARY. IF YOU WOULD LIKE A CUSTOMISED SHIPPING QUOTE FOR YOUR LOCATION, PLEASE SEND US AN EMAIL hello@seatribe.com.au AND WE CAN ARRANGE THIS PRIOR TO YOUR PURCHASE.
IF YOU PURCHASE THIS ITEM, YOU WILL BE SENT A SEPARATE INVOICE FOR SHIPPING BEFORE DISPATCH.
IN MOST CASES, OUR FURNITURE PIECES ARE PRE-ORDER ITEMS (INCLUDING THIS ONE). THERE MAY BE SOME CIRCUMSTANCES WHERE IT IS IN STOCK, AND WE CAN ARRANGE IMMEDIATE DISPATCH, BUT PLEASE ALLOW UP TO 8 WEEKS FOR YOUR ORDER TO BE DISPATCHED.
Shipping; This item ships via our local courier to South East Queensland and via one of our freight partners for all other States & Territories. It arrives within 2-7 business days of order receipt.
Unfortunately this item can not be shipped internationally