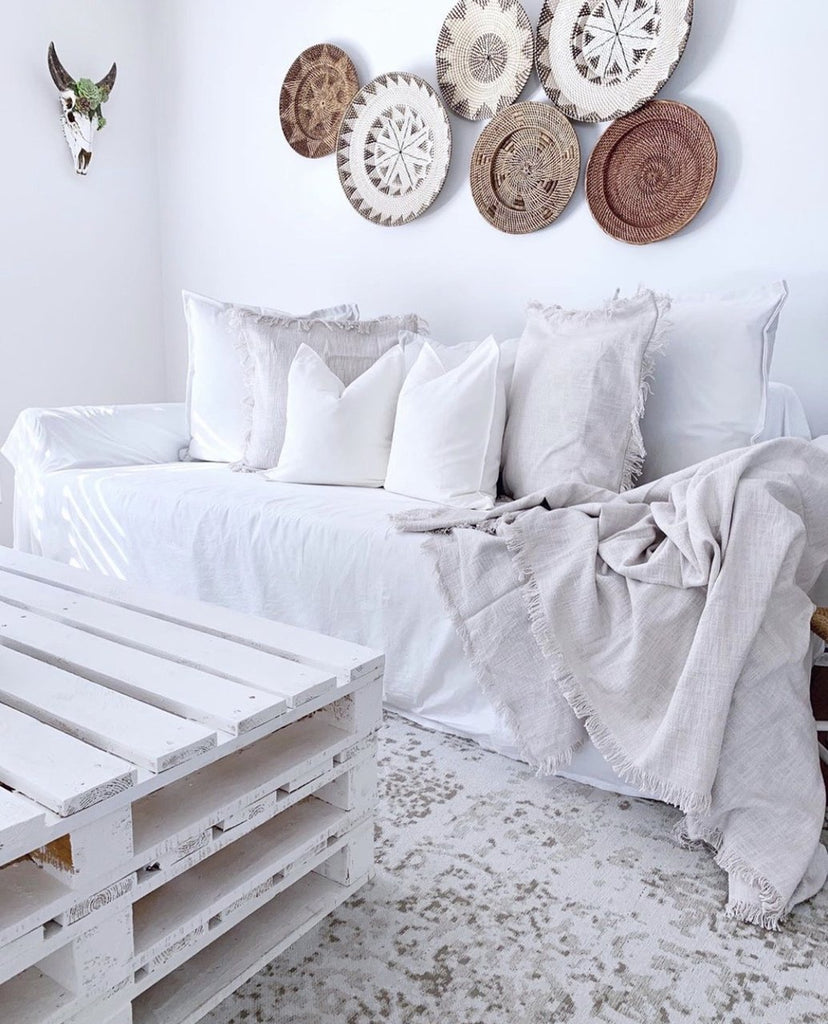 Waiting until you can climb on to the property ladder to make your house feel like home?  While you might not be able to make a rental your dream space, there are plenty of things you can do to make your space comfortable, stylish and more importantly, feel like yours.
TAKE STOCK
If your rental happens to have loads of natural light, fresh white walls and original timber flooring, you are one very lucky human.  For everyone else – walk around your space making a list of which features you love, or are not so keen on, and work with those. 
You might have great natural light but hideous floors, or beautiful timber flooring and putty coloured walls.  Whatever your issue, there are easy and wallet friendly tricks you can use to counteract them.
UNDER COVER
Unsightly floors are the easy part – pick a cute rug that will cover them up and soften the space (literally and visually).  A rug can also help divide an open plan space, for example separating the dining area from a sitting nook.  A neutral shade is an obvious choice here, as it is most likely to blend in with your current space but will be easily transferable to the next one.
LOOK FOR LIGHT
Bring more light into dark spaces by positioning mirrors opposite windows, reflecting the light source around the room.  Mirrors will also make your space appear larger, which is great for smaller apartments and dark hallways. If you aren't able to add hooks suited to heavy mirrors in your walls, large mirrors look great simply leaning against a well.
FRESHEN UP
If your landlord and budget allows, we would recommend a coat of white paint throughout your home, this will brighten the entire space and tie it all together, and allow you to display any wall art with the least distractions. 
However if this isn't possible, you can try working with the colour you have – hang prints (using rental friendly adhesive strips!) and travel mementos that tie in with the existing paint colour. 
Also, if your existing furniture clashes terribly with any existing paint or wallpaper, you could look at covering a lounge or bed with a neutral throw blanket, and think about painting existing furniture such as bookshelves and side tables a neutral colour.
MAKE IT PERSONAL
Try adding some décor such as cushions and throws in colours that you love, but are also complementary to your existing walls - this will make for a cohesive, yet personal space.  Hanging favourite prints, postcards, photographs and even pictures from your children (or a niece/nephew) will also make the space feel truly your own.
To further personalise your space, bring out your most loved trinkets and souvenirs and display them on a console table, coffee table of bookshelf.
IT'S GOOD TO BE GREEN
Adding some greenery is another way to add some warmth and personality to your space. This is also a beautiful way to bring the outdoors in if you aren't lucky enough to have a balcony or garden.
You could make a herb garden for your kitchen window, or display an assortment of hardy indoor plants around your living spaces for a modern boho look.
With a few simple updates, you'll be feeling well and truly at home in next to no time.  Enjoy your space!