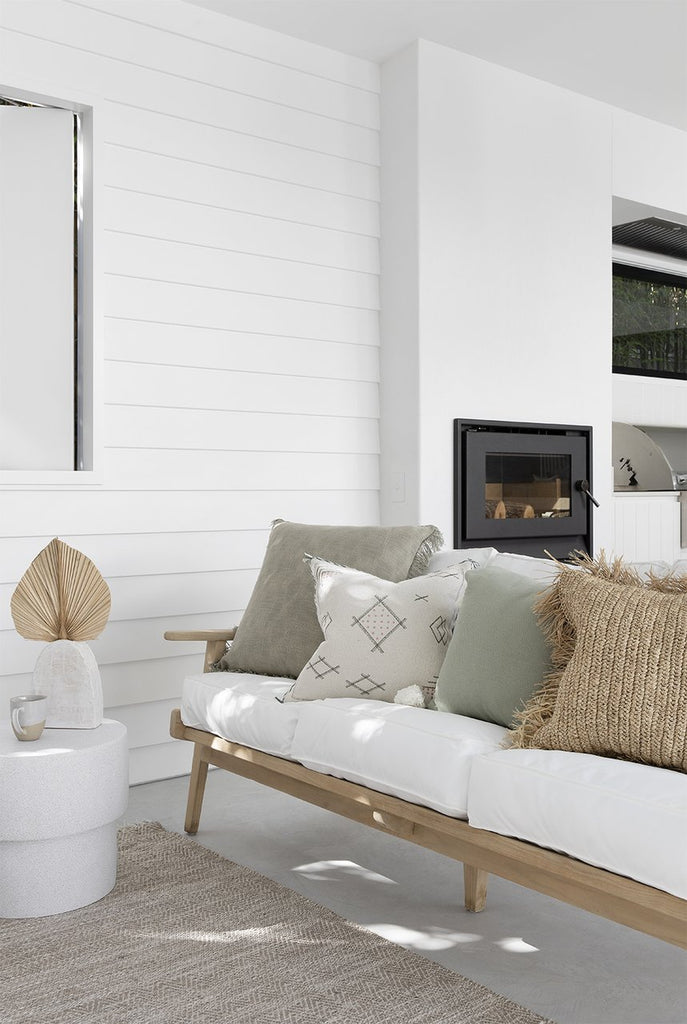 As the weather warms up, we love thinking about our outdoor spaces - how we are going to use them through Spring and Summer, and what we can do to make them more inviting.
Although in Australia we are lucky enough to be able to enjoy our outdoor living areas pretty much all year round, a few finishing touches can make them a true extension of your home.
It will come to no surprise to many of you that we love using cushions in a variety of ways outdoors.  They are such a flexible decor item that can provide comfort, soften the hard edges often found in outdoor furniture, benches and flooring, and modernise a space, all at once.
Of course cushions are indispensable when it comes to creating a comfortable space to while away the hours in, but they're also great to have on hand as additional seating for when extra guests pop by.
We also love the use of throw blankets outside.  They can offer warmth on chilly nights, and when not in use provide a beautiful softness and textural layer to outdoor areas.
If you're a fan of potted plants, an outdoor living zone is the perfect place to go wild.  Surrounding an outdoor space with greenery is a great way to blur the edges of indoor/outdoor living, and can also help provide a cooling effect when the Summer heat is overbearing.
A lovely rug underfoot also works well to soften an outdoor room, deck or balcony.  We like something in a natural fibre, like jute, which suits an outdoor space more than a heavier "indoor" fibre.  This can also help cool your space down during warmer weather if your flooring tends to absorb a lot of heat.
Something that many people forget about outdoors but is essential in our book, is to add a little personality with some considered decor pieces - a beautiful vignette of candles and found treasures such as sea shells; or a collection of beach hats and bags which looks beautiful but is also functional. 
Using accessories in your outdoor space is also a great way to update your existing design and furniture without breaking the bank.
Adding multiple layers to your outdoor space using cushions, throws, plants and personal touches will make spending time out there this Spring and Summer all the sweeter.