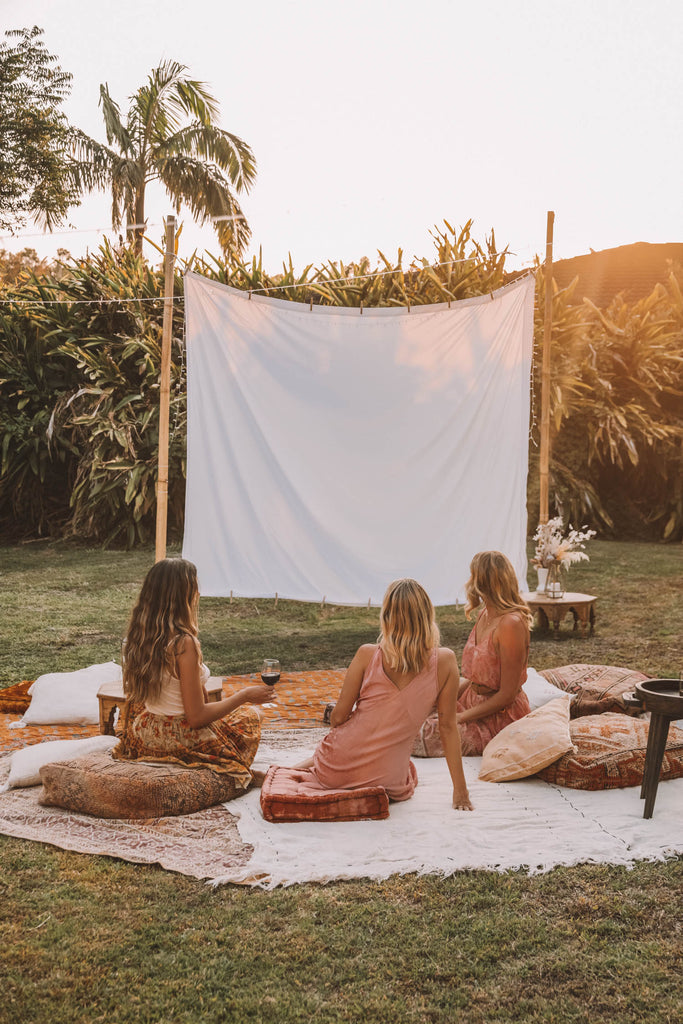 It might be a while before any of us see the inside of a cinema, but that doesn't mean we can't create one outdoors that's even better than the real thing.
Whether it's a family movie with pizza and popcorn, or a wine and cheese night watching the classics with the girls, there's nothing better than hanging out with loved ones under the stars.
First off, you'll need a projector (you can pick one up pretty cheaply - around the same price as one family trip to the cinema) and a screen. 
(Image: Andee Lane)
You can buy a screen or make your own by stretching a white sheet out across two poles or trees in your yard (for best results, attach a dark coloured sheet behind it); or you could attach the sheet to your fence.
Either way we recommend giving the sheet a good iron beforehand and stretching it as tight as possible for best viewing quality.
(Image: Spell)
Unless you have outdoor speakers already installed, you'll also need a bluetooth audio speaker so you can hear the movie.
Once you have all the technical aspects set up, you can work on the fun stuff - decorating your theatre.
(Image: Andee Lane)
You can start with a few rugs and/or throw blankets layered over the floor space, and add as many cushions as you have so you and your guests can get super comfy.  Using a range of different size cushions will allow everyone to create a seat that is perfect just for them.
(Image: Andee Lane)
Add either a coffee table, some end tables or a few low (stable!) stools so you have somewhere to pop your drink or snacks during the movie. 
Finally, add some soft lighting to create a warm and cosy atmosphere - a mix of fairy or festoon lights and candles would be perfect.
(Image: Emily Henderson)
Although it takes a little effort, an outdoor movie night makes for beautiful evening that your friends and family will adore.