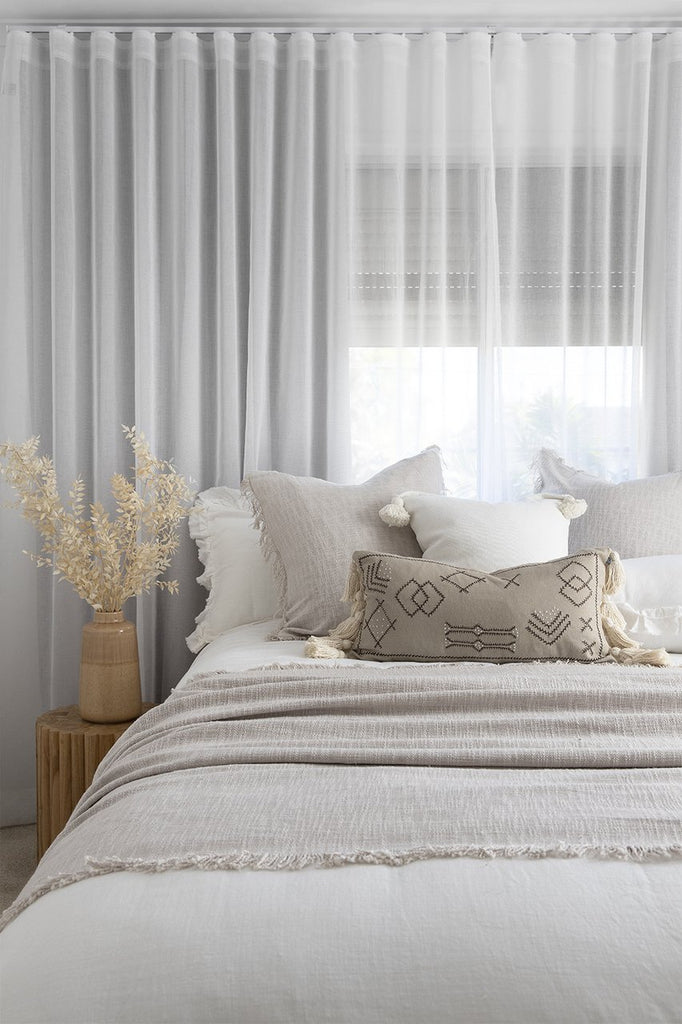 As research continues to find that a poor nights sleep can create a world of problems (stress, mental fogginess, a host of health problems & weight gain, just to name a few) many of us are looking for ways to improve the quality of our sleep. 
While there are a number of things you can do during the day to improve your quality of sleep, such as regular exercise and caffeine avoidance, your sleep environment (aka your bedroom) also plays a huge part in the quality of your sleep.
In fact, as Jonathan Scott, home design expert told Good Housekeeping magazine, "Nothing in your home will impact your life more than having a beautiful bedroom to sleep in, with an aesthetic that will help you recharge."
Here are our top tips for making sure your bedroom space is one that allows you to rest and recharge for your best nights sleep yet.
CALM, NOT CHAOS
You'll never be able to relax when your bedroom is the resting ground for household odds and ends; start by clearing the clutter.  If this seems impossible you could look at investing in some new furniture or some plastic tubs you can keep under the bed, or elsewhere in the house (the laundry, for example).
Make it your motto to sort and put away any laundry as soon as it's done to avoid it becoming an insurmountable pile that sits in your bedroom until you're ready to wear it again (we know, we've been there).
When it comes to decorating, try to stick to calming colour like whites, soft blues, warm greys and muted greens; or if cool colours aren't your thing you could try an earthy, neutral palette to put your mind at rest. 
These will create a restful spa-like space that allows you to wind down as soon as you step through your bedroom door.
(DON'T) LOOK ON THE BRIGHT SIDE
Try to avoid using bright overhead lights and ultra bright lamps in your bedroom during the evening.  Use a softer lamp before bed to let your body know that the time to rest is approaching.
And if you're serious about better sleep, ditch the screens at least 30 minutes before your intended sleep time; pick up a book, have a warm shower or do some meditation instead. 
LAYER UP
The type of bedding you use will make a huge difference to the quality of your sleep. Having a minimum of two full sets of (quality) sheets, duvet covers and pillow slips mean you can change the bed frequently; without needing to wait for time when you can wash or dry one set.
This will allow you to wash and dry your sheets at least weekly (or at a very bare minimum in winter, fortnightly) to ensure they are fresh.
The National Sleep Foundation of the USA found the vast majority of people report that they are more excited to go to bed and/or that they get a more comfortable night's sleep on sheets with a fresh scent.
We like to use layers on our beds so they work through all seasons; and allow you to add or remove layers depending on the temperature. While you don't want to shiver through the night, you want to use the minimum number of layers to ensure you're not overheating - which will result in fractured sleep (and a bad mood the next day!)
A flat sheet should be enough for the warmest summer nights; however for the rest of the year a lightweight feather duvet, along with a throw blanket or heavier coverlet for cooler nights, should see you through.
MAKE IT NICE
So now you have a clean, uncluttered room, soft lighting and the right amount of layers - don't let it go to waste by leaving your bed unmade in the morning! 
The National Sleep Foundation poll found that those who regularly made their bed were also more likely to say that they got a good night's sleep most nights. This fits in with their findings that your bedroom environment (including that fresh feeling of a made bed), influences the quality of your sleep.
Add a few gorgeous cushions for a restful, hotel style experience and you'll have a sleep experience to dream about.